When will my phone get Android 7.0 Nougat? - July 2016 edition
56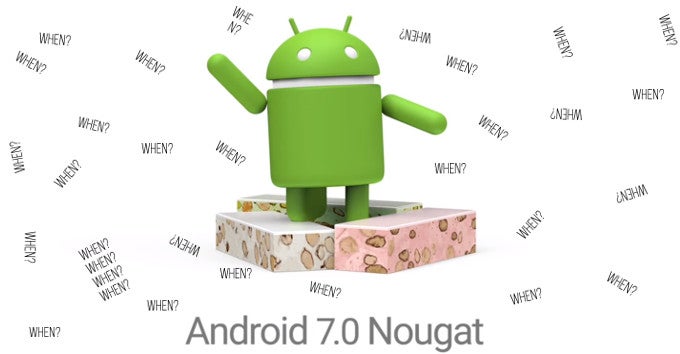 Arguably the least appetizing of all the major updates so far released—in name if nothing else—Android 7.0 Nougat just entered the final stage of its beta testing. Before long, Google's Nexus line will start being hit with the new iteration, followed by the typical when & which for the rest of the industry's devices that aren't as fortunate and receive the latest code months later—in some cases, many months later.
This being the early days of Nougat, with not a single device yet running the software, we're yet to come across manufacturers' roadmaps for their respective lineups. In other words, beyond the freshest devices that recently hit the market—that will therefore be a priority—we have no clue as to the scope of their intentions, let alone estimated time frames. That doesn't stop us from using past data in order to make predictions, however.
Data? What Data?
As some of you might know, this isn't the first time we broach the subject of Android software updates. Last year,
we dug out historic data on the timing of the official updates
(read: not third-party, custom Android ROMs), using it to compile a table of how it went for each of the majors in the Android world. By supplementing that same data base with Marshmallow figures, we'll have intel spanning KitKat all the way through the latest official version. With that info in hand, we have what we need to extrapolate and make some educated guesses.
Using this data, we can make the following calculations (these are approximations; only flagship lines taken into account):
Putting these into context, we can make the following conclusions:
Motorola has consistently been the quickest to update its flagship line;
Sony is by far the least reliable maker as far as timely updates to its flagship line are concerned;
Samsung, LG, and HTC all have previously managed a major update in as little as 2 months, so keep your fingers crossed!;
Samsung has also been among the last to update its flagship line in previous years (KitKat), but has been doing much better lately
But... Nougat?
Given Google's promise of making Android 7.0 Nougat official by Q3 of 2016 (meaning end of September at worst), we may be looking at an earlier release compared to previous years—if only by a little. Going back to the data we've compiled, if we were the betting kind, we'd wager on Motorola delivering on Nougat first, followed by HTC. It's a toss-up between Samsung and LG, while Sony is the sure loser—though that's also an opportunity for the struggling Japanese company to re-assure fans that it's as invested as its competitors. Obviously, should Sony end up surprising us, it'll be a precedent, as data is consistent in that the Xperia maker just isn't as quick to bring the latest and greatest to its devices.
To summarize, using our data for a forecast and end of September as our potential release date:
Expect Motorola's flagship line to get Android Nougat end of November/early December;
Expect Samsung's flagship line to get Android Nougat around January 2017;
Expect LG's flagship line to get Android Nougat around February 2017;
Expect Sony's flagship line to get Android Nougat around April 2017;
Expect HTC's flagship line to get Android Nougat around December