When is my phone getting Android 6 Marshmallow? Here's what we know so far (November 2015)
59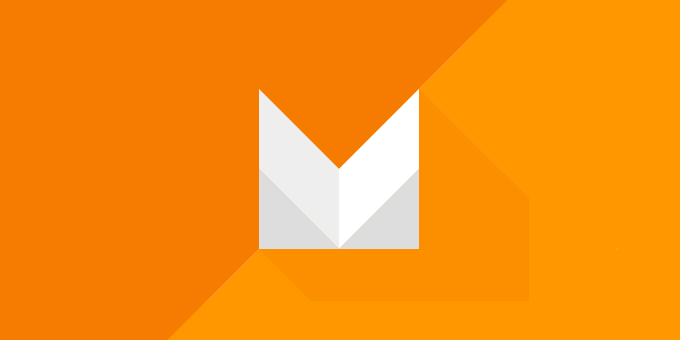 There's one question that the Android community at large will be obsessing over for the foreseeable future: "When is my phone getting Android Marshmallow?". Seeing as how Google casually mentioned that it's now partnering with over 400 different OEMs at I/O 2015, every one of which with different priorities attached to software updates, the answer will likely vary. Wildly. In many cases, we can only guess, though we could use the data from previous release schedules for major Android updates and make some projections, not to mention any official or non-official information we've gathered over time.
A bunch of that, we already have, but there's still quite some ambiguity. Right now, all we can tell for sure is that Nexus-branded devices are already rocking the update, and so is the newly-released HTC One A9. Beyond that, select countries like Poland and South Korea have been blessed with Marshmallow for LG G4 users. Here's what else we know, broken down by manufacturer:
Samsung
Samsung has been keeping mum for the most part when it comes to Marshmallow, so we don't really have an official list with devices planned for update. Instead, we have to make do with leaked information, most of which is unverifiable, so don't be disappointed if these don't pan out.
Galaxy Note 5 (

December 2015

)
Galaxy S6 edge+ (

January 2016

)
Galaxy S6 (

January 2016

)
Galaxy S6 edge (

January 2016

)
Galaxy Note 4 (

February 2016

)
Galaxy Note Edge (

February 2016

)
Galaxy A8 (

March 2016

)
Galaxy S5 (

April 2016)

Galaxy Tab S 10.5 (

April 2016

)
If this leaked roadmap is true, we can assume that other models from the Galaxy A and Tab S series will also get a spot at the campfire.
LG
LG was actually the first maker to push Android 6.0 Marshmallow out, as previously mentioned, with G4 owners in Poland (and South Korea, subsequently) enjoying an early taste. Unfortunately, we don't really have information on when the update will roll out globally. LG's last year's flagship, the G3, is expected to get the same treatment in Poland, supposedly starting sometime between the 16th and 18th of December.
HTC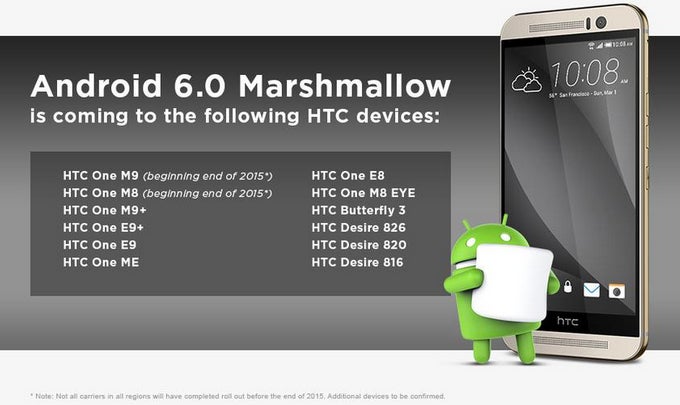 HTC didn't waste time publicizing its intention of pushing Marshmallow to its devices as quickly as possible, and has provided us all with a handy list. And though the One A9 came out of the gate with Marshmallow, no other One series devices have followed, though that's about to change shortly, as you can tell from the above (official) image.
Motorola
Motorola sure surprised the world last year with a speedy update to Android 5.0 Lollipop in November, but is now stalling, and about to miss that same window it managed last year (November). The US-based, Lenovo-owned company hasn't committed to any specific timeline just yet, but has revealed the list of devices it's working on.
Moto X Pure Edition (3rd gen)
Moto X Style (3rd gen)
Moto X Play
Moto G (3rd gen)
Moto X Pure Edition (2nd gen, US only)
Moto X (2nd gen, Latin America, Europe, Asia
Moto G and Moto G LTE (2nd gen)
DROID Turbo
Moto MAXX (2014)
Moto Turbo (2014)
Obviously, we expect that the Motorola DROID Turbo 2 and DROID MAXX 2 will also get the Marshmallow treatment.
Sony
While there's no word on when exactly various Sony Xperia device will get Android 6.0 Marshmallow, we do know that the company is making steady progress — there's a concept (beta) build already available and being tested for the Xperia Z3 and Z3 Compact. While Sony hasn't committed to a schedule, it has confirmed that the following devices will get the update to Marshmallow at some point:
Xperia Z5
Xperia Z5 Compact
Xperia Premium
Xperia Z3+
Xperia Z3
Xperia Z3 Compact
Xperia Z2
Xperia M5
Xperia C5 Ultra
Xperia M4 Aqua
Xperia C4
Xperia Z4 Tablet
Xperia Z3 Tablet Compact
Xperia Z2 Tablet
OnePlus
Startup OnePlus also hasn't committed to an exact date, but has confirmed that all (three) of its devices will get their CyanogenMod/Oxygen software updated to the Android 6.0 Marshmallow base by the end of Q1 of 2016. That means anywhere between January and March. In case you're curious, the list includes:
OnePlus Two
OnePlus X
OnePlus One
Huawei
Chinese Huawei also has a pretty ambitious list of devices it'd like to get up to speed with Marshmallow. It includes the follow phones:
P8
Mate 7
Mate S
P8 Youth
P8 Max
G7 Plus
honor 7
honor 7i
honor 6 Plus
honor 6
honor X2
honor 4X
honor Play 4C
Of course, when those software update prompts will light up the screens of Huawei owners' devices is unclear.
Asus
Asus has officially confirmed that the following score of devices will get updated to Android 6.0 Marshmallow:
ZenFone 2
ZenFone 2 Deluxe/Special Edition
ZenFone 2 Laser
ZenFone Selfie
PadFone S
Exact time frames have, once again, been omitted from Asus' official statement (which gave us the above breakdown).
Using past data to estimate wait times
We've gone through a ton of trouble compiling the below two tables with one single goal: to provide the data needed to be able to make a forecast. As you can see, Motorola won the race to the finish line with Lollipop, followed by Samsung and LG. HTC, and especially Sony, were late to the party. Looking even further back, the tally is similar, but not entirely. Motorola was once again first to deliver Android 4.4 KitKat, followed by Samsung
and
HTC. LG took a month longer, while Sony needed yet another and again ended last.
Obviously, reading too much into this data is not advised. It's a new year, new update, and companies might have different priorities attached to software updates. So last year's first to the finish line could end up last, and vice-versa.
This post is to be continuously updated as we get more information on planned firmware releases from manufacturers. Stay tuned!