There's something really wrong with Android Marshmallow
80

... People are not getting it.
No, not as in, it's too complex an issue, but literally: they're not getting it on their devices. According to the latest official stats, courtesy of Google, the latest major iteration of the platform is installed on a paltry number of all the devices on the planet.
Ten months after it was first made official, and nine months since we've started getting install data on it. Kind of... depressing.
The data
Since mid-2012, Google's Android Developer website has been publishing monthly data on the versions of Android the installed base is currently on. With two lapses—October of 2014 and July of 2015—we've had monthly updates for the last 4 years or so. Of course, Google's charts are constantly updated as well, which is why we had to jump into the web archives and suffer a few hours until we were able to get a snapshot from each of the past 48 months that it's been available. It took a while, but it was worth it: even our boldest predictions proved incredibly optimistic.
Turns out, there's really something wrong with Android Marshmallow: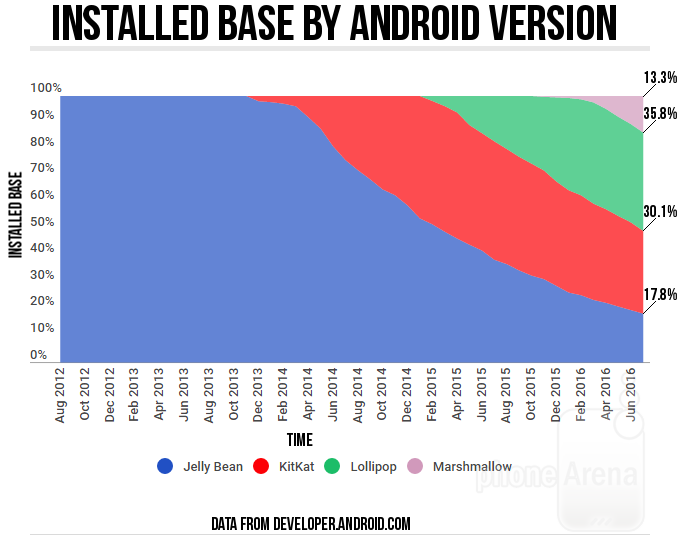 As you can see, 9 months after Google first started reporting on Marshmallow, the latest and greatest is only available to... 13.3% of users. That's a shockingly low number, and our data proves it. Consider this:
By the 9th month, Lollipop was installed on 23.5% of all devices (76.7% better)
By the 9th month, KitKat was installed on 20.9% of all devices (57.1% better)
By the 9th month, Jelly Bean was installed on 25% of all devices (88% better)
Our napkin calculations tell us that on its 9th month, Marshmallow is on 73.9% devices less than previous major updates on average.
What the heck is going on?
The surprising bit
The majority of 2016 Android releases are behind us, so what's up?
Major Android updates have become pretty consistent in that a new one pops up in the last trimester of each year ever since Android KitKat. Given how manufacturers have been similarly consistent with the release windows of their respective devices, it's reasonable to assume that the slow adoption of Marshmallow isn't because these are yet to hit the market. Quite frankly, with the exception of the Samsung Galaxy Note 7, most of the expected Android device of the year are already on the market, or soon to be released.
Even if we assume that Motorola's impending launch of its Moto Z family will be a success, along with the Note 7, there's no reason to believe that these will significantly impact overall Marshmallow adoption—after all, there are over a billion active Android devices. Even if it does, we're still extremely skeptical that the Marshmallow indicators will suddenly rally to match previous major versions.
What's going on?
Quite frankly... we don't really know.
Yeah, erm... we don't really know. Maybe you do!?
It could be that manufacturers are taking it easier on their efforts to bring the latest to their customers, or it could be that Marshmallow is just a technically challenging update to implement for their respective (and proprietary) software. Alternatively, this might be explained by a widespread holdout on new purchases, meaning that the installed Android base at large is simply at a point where a smartphone update is not yet desired.




Or, drawing on the last, it could be an indication that smartphones in the last few years have gotten much better—so much better that it's increasingly hard to rationalize another purchase. After all, if your KitKat phone is running fluidly and its camera is performing well, it's easy to imagine that you'd stick to it for a while longer. Perhaps a buying craze will characterize the coming holiday period, as many of us decide it's finally time to upgrade?




Again, we don't know. We simply speculate.




YOU, you've got some hidden insight? Do oblige us and let us know in the comment section.