WhatsApp now using a two-step verification process
2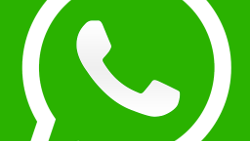 Messaging app WhatsApp announced today that it has started rolling out two-step verification for its iOS, Android and Windows users. It is up to the user of each device to enable the app to use this new feature, which adds an extra layer of security for those signing into the app. This is something that WhatsApp has been working on for months, and to enable it you first open WhatsApp on your phone and go to
Settings
>
Account
>
Two-step verification
>
Enable
. It couldn't be easier.
To use two-step verification, you will need to come up with a 6-digit passcode. Don't use 1-2-3-4-5-6 or 6-5-4-3-2-1. Make it challenging enough that you need to write it down on a piece of paper that you have to carry around. After all, if you can't remember your own passcode, it most likely will be safe. You can include your email address just in case you forget your passcode. This will allow you to send an email to WhatsApp to disable the two-step verification. If you receive an email to disable two-step verification without requesting it, do not click on the link inside the email as it could be someone trying to verify your number on WhatsApp.
Using the two-step verification, anytime you use your phone number it will be verified using the passcode. You can learn more about this by clicking on the sourcelink.
source:
WhatsApp
Recommended Stories