WhatsApp now has 400 million users
20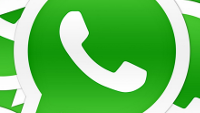 Cross-platform messaging service WhatsApp has reached a milestone and now has 400 million subscribers. If you took each WhatsApp subscriber and had them stand on top of each other, it would measure all the way from earth to...well, let's just say it would be a very long chain of humanity. The last 100 million was added in just the last 4 months. And this is a total of active members, not just those who registered and never used the service.
Consider that the company is thriving with only 50 employees working for the company. WhatsApp has reached the 400 million membership figure without a marketing campaign and has never spent 1 red cent on advertising.
Those 800 million eyeballs do have a value to advertisers. Back in April, well before the 400 millionth active user installed the app, there was a rumor that
Google was going to buy WhatsApp for $1 billion
. Yes, there is serious, serious money being thrown around here. And consider this. Once a user's free year is up, WhatsApp costs 99 cents for each following year of service. It doesn't take a genius to see the possibilities here. Of course, we can't expect every member to keep the service beyond the free year. And who knows which messaging app the fickle public will be drawn to next.
Take Snapchat and its disappearing messages. As recently as June, the company raised money at a valuation of $800 million. Now, it has reportedly
turned down a $3 billion offer from Google
. That might be a decision that it regrets one day, because in tech you need to strike while the iron is hot. Right now, mobile eyeballs are worth a fortune and if you have a better mousetrap, you can attract those eyeballs and make a fortune.
source:
WhatsApp
via
BGR