What's in the cards for Pokemon Go? More Pokemon, customizable pokestops and trading
1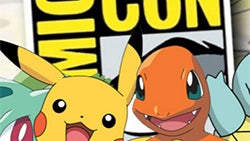 Being the pop cultural phenomenon that it is, the future of Pokemon Go was discussed at this year's Comic-Con in San Diego. Niantic Labs founder John Hanke took the stage in a packed conference hall to talk about the incremental roll out of Pokemon Go in different regions and, of course, tease fans with what's to come next for the surprise mobile gaming sensation.
Pokemon Go currently features classic first generation Pokemon for players to hunt around in the real world, but that might change at some point in the future with the addition of critters from later generations, Hanke revealed. Unfortunately, he did not provide any details on a specific time frame for the update, noting that the developer is looking "forward to finding interesting ways to make that happen in the coming months and years." So, apparently, Niantic has plans to keep the Pokemon mania burning for years to come.
We
previously reported that trading is coming to Pokemon Go
, again at some point in the future, and Mr. Hanke confirmed that at Comic-Con, adding that pokestops will also get a treatment and become a bigger part of the game, by allowing players to modify their functions in different ways.
"That's a pretty cool idea that you can acquire an object that changes the function of a pokéstop and give it a new ability,"
Hanke said.
"I don't have a date for you,"
he added, pointing out that Niantic is hard at work
"to keep the servers up and running."
We will have to wait a little longer and see whether the developer will be able to keep the Pokemon Go fire going and preserve the huge momentum it's gained.
source:
The Verge