What people want to see in the next Apple iPhone
99+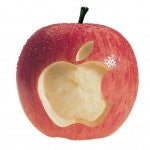 With
rumors continuing to insist that the 7th generation Apple iPhone will be an an incremental update titled the Apple iPhone 5S
,
USAToday
thought it might be an interesting idea to see what the average Joe wants to see on the next iteration of the phone. Houston cop Shynolan Reese would like to see the next Apple iPhone carry a larger screen size. "
I want a screen comparable to the Galaxy
," says the officer, who asked for the next iPhone to weigh in with a display of at least 4.5 inches. Remember, until the Apple iPhone 5, all iPhone models carried 3.5 inch displays. The upcoming
Samsung Galaxy S4
will have a 4.99 inch screen.
It could be that Dallas based marketing pro Elizabeth Zamora does not know what a widget is. Zamora would like the next iPhone to offer weather information directly on the homescreen when she wakes up in the morning. We would suggest that Ms. Zamora check out Android.
Even though iOS 7 is expected to have a re-design of the Apple UI
, there is no guarantee that widgets are coming to the Apple iPhone.
Other changes wanted for the next Apple iPhone include
wireless charging
,
something more likely to be seen in next year's new model
. Meanwhile, a fingerprint scanner is on the wish list for Washington D.C. resident Brian Carter. That also is something more likely to be seen next year, especially since pictures allegedly showing the home button for the Apple iPhone 5S
did not reveal any of the necessary components for such a feature
.
So what features would you like to see on the next Apple iPhone?
source:
USAToday