iPhone 5S unlikely to have wireless charging, better luck with iPhone 6
48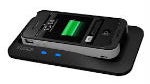 Earlier today there was a report out of DigiTimes that talked about Samsung, Apple, and other manufacturers working towards adding wireless charging options to their flagship devices for 2013. While DigiTimes tends to be relatively reliable, we feel like there needs to be some clarity brought to the story, especially pertaining to Apple and the iPhone.
Here's what happened: a report came out of
DigiTimes
earlier today, saying that Samsung is expected to adopt the Qi Wireless Charging standard for the Galaxy S IV. That same report said that Apple was working on its own wireless charging technology (which we already knew from
patents filed last year
), but
the report never said anything about what Apple device would first see the wireless charging tech
, just that it would be in a "flagship 2013" device, and that it was "unknown" if the next-generation iPhone would have wireless charging built-in or via accessory.
First, we want to tackle that last part of the rumor. Given the way Apple does business, it seems nearly impossible that the "next-generation" iPhone (that being the 5S) would use an accessory to deliver wireless charging. In Apple's world, either it's built-in, or it isn't made by Apple. Second, we want to touch on the possibility that the iPhone 5S is even the target device for this technology. The basic reasoning is quite simple: the iPhone 5S, as with all "S" model iPhones, is going to be more about new internals and software, while the overall design likely won't change at all. But, in order to put wireless charging into an iPhone, there would need to be relatively major changes to the design.
So, don't get your hopes up about the iPhone 5S having wireless charging. It's far more likely that the "flagship" Apple device that gets wireless charging will be the iPhone 6, which could still fit the "flagship 2013" part of the DigiTimes report, since Apple is assumed to be moving to a 6-month release cycle for the iPhone, meaning the iPhone 6 could come towards the holiday season.