What our readers think of the Galaxy Note
51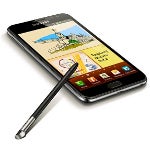 The
Samsung Galaxy Note
is a strange smartphone. It quickly managed to become relatively popular with the geek public for a number of reasons. The first one is, of course, its giant 5.3" screen. This is still the largest screen in a device being marketed as a phone. Second comes Samsung's wild promo campaign for the handset which has practically made sure that even people who aren't Android fanatics are also aware of it. Third comes its S Pen stylus, designed for easier... note-taking. To top if off, the Galaxy Note actually comes with a beautiful screen and some very powerful hardware to guarantee the smooth operation of the Android platform. When you think about it, the Note is indeed a special device.
When the Galaxy Note launched, some loved it, others hated it. Thinking about this now - it's more than understandable. The Note sits on the very line dividing the phone and tablet categories, which is a risky place to be. Anyway, the Note did manage to accumulate a sizable following and is now among the hottest products in Android land.
With that in mind, we wanted to see exactly what our readers think of this intriguing device. Guess what, after checking out some of the user reviews posted on our site, we found out that users actually love the Galaxy Note, even rating it much higher than
we did
! Below, we are featuring some of the best Galaxy Note user reviews posted on our site. Enjoy!
Best Phone You Can Get!
A review of the international Galaxy Note by Deicide
This phone is one of the best phones ever. so much that I have to review it. I am a tech junkie and that means I love to collect phones and resell them. I have owned in the past: Nokia 6290, KIRF iPhone 4(lol), Samsung Galaxy S II GT-i9100, LG Thrill 4G, Samsung Focus i917, HTC Sensation 4G, Sony Tablet S 32GB. None of these can compare to the mere presence of the Galaxy Note.
Build Quality 10/10: Has a very sturdy feel to it, choice of materials is your opinion. It is made out of plastic, but not anything cheap. I prefer the plastic b/c if Samsung had opted to choose a type of metal e.g. aluminum it would feel very heavy and uncomfortable in hand...
To read the whole review, please visit our
Galaxy Note user reviews
page (because it kind of rivals our reviews in terms of depth!).
Overall rating: 10/10
Will not trade it for any other phone
A review of the international Galaxy Note by joseph98
The best smart phone I have ever used . Very fast respond. Light weight. Well build. Amazing large screen. More than what I expected. Since I bought it I hardly use my laptop. They where right when they called it phablet. ( Phone & Tablet). Can browse any website in computer desktop mode including youtube website. This phone amazed me. Had it since Jan. 8 and loving it so far. I only wish the battery is more powerfull. Sure if samsung sell a 3000mAh battery I will replace my 2500mAh original battery.
Overall rating: 10/10
Awesome Samsung Phone
A review of the AT&T Galaxy Note by jamhet13
Switched from an HTC EVO 4G with Sprint to this bad boy. Love it. I can still one hand text with it. The colors and resolution are amazing. Light weight and thin, fits in the front pocket of jeans with no problem.
Overall rating: 10/10
Samsung Galaxy Note LTE
A review of the AT&T Galaxy Note by JGuinan007
Finaly a phone that is a true portable multipurpose device. I use it for everything on the go. Camera, Video recorder, note pad, web browser, music player, ereader, doc veiwer/writer, banking, oh and phone. The big display is nice I can text well without mashing three buttons so it's faster for me and with swipe and voice to txt I don't even have to the s-pen is great I find my self circleing this on pics and sending them to people to show exactly what I mean. Samsung really did a great job on this phone I use it for everything more so than any other phone I've owned.
Overall rating: 10/10
Great iPhone Killer
A review of the AT&T Galaxy Note by jdubis
So I returned my galaxy tab 8.9 for this as i wanted something to fit into my pocket. I went there today when it was official released and within 45 minutes of the store opening five iphone 4s where returned for this. I love the light weight, amazing screen, and long battery. The s-pen is cool and needs a little tweeking in my book, but great for being the first. Also love the integrated case for the phone
Overall rating: 10/10
You can read all of our international Galaxy Note user reviews
here
, and our AT&T Galaxy Note user reviews
here
.
Now, what about you? Do you love, or do you hate the Galaxy Note? How would you rate it? You can share your opinion in the comments below, but of course, you can also post a user review of your own!