Samsung Galaxy Note LTE Review
46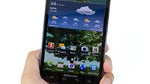 This is a review of the AT&T LTE version of Samsung Galaxy Note. Click here for the review of the European version
Introduction:
Taking a trip back to memory lane, it was hard to imagine smartphones packing displays anything larger than 3.5-inches a few years ago, but as reality has proven time after time, it seems that we have an insatiable desire to keep moving forward. In fact, our jaws all dropped in unison when the
HTC HD2
came romping onto the scene flaunting a then larger than life 4.3" display. Soon afterwards, we've all come together as a society to regard devices with these sized displays to be the norm.
Well, the
Samsung Galaxy Note
came to fruition back last fall pushing the limits of how big is too big for today's modern smartphone. The insanely large device is finally making its way to AT&T's lineup with 4G LTE connectivity in tow to match its prestigious status as being a formidable Android powered smartphone. Interestingly enough, this isn't the first time we're seeing a device on AT&T's lineup breaking the barriers with a 5-inch display of some sort – as the
Dell Streak
from 2010 brought BIG to the masses. Having spent an astronomical amount for a fancy Super Bowl commercial, Samsung clearly has high expectations for the
Galaxy Note
, so let's see how this version fares!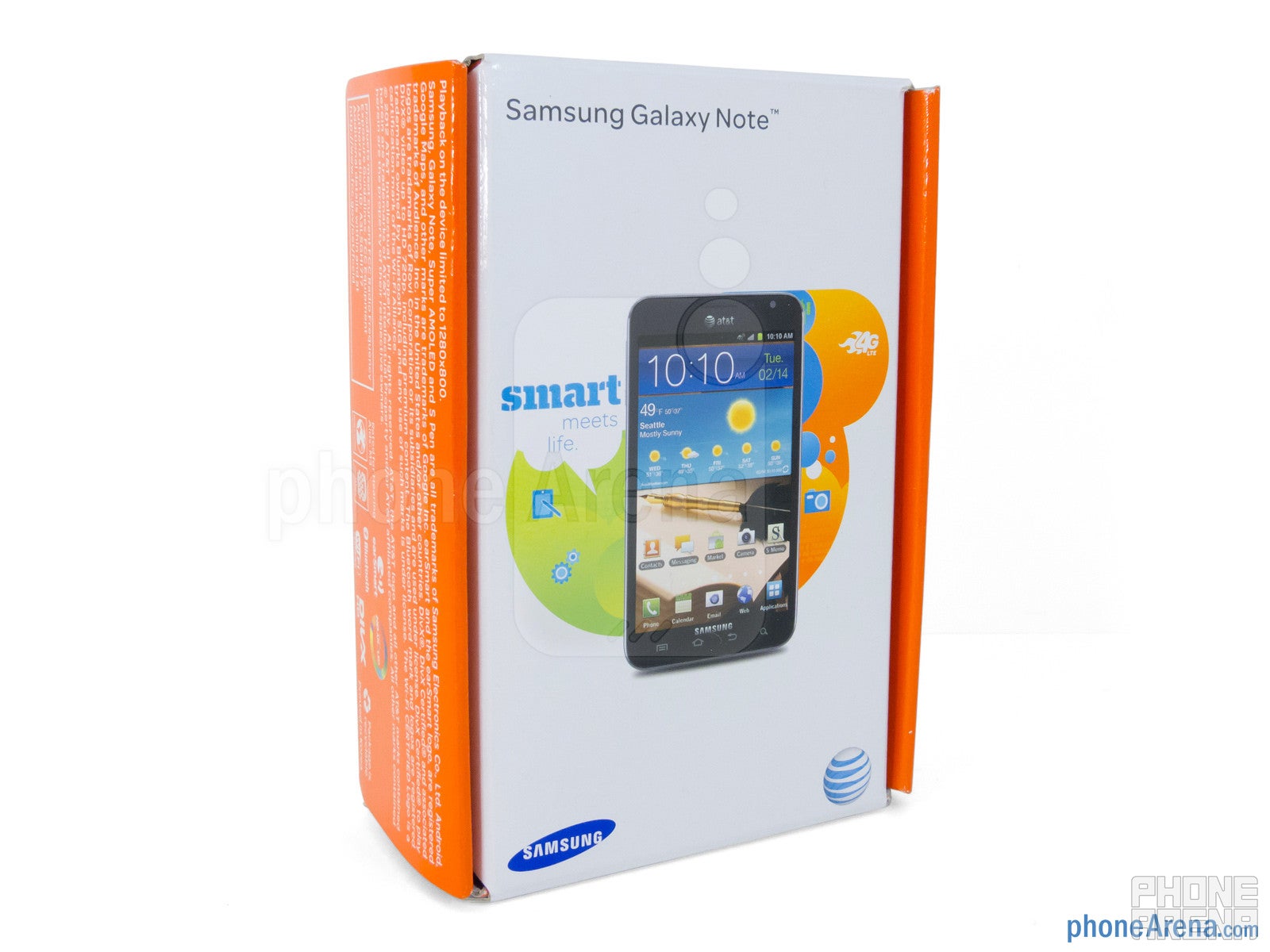 The package contains:
microUSB cable
Wall Charger
Quick Start Guide
Health & Safety and Warranty Guide
Design:
Let's get the obvious out of the way – again! This isn't a handset fit for those with small hands, because honestly, it'll inevitably prove to be too much, as frustration to hold and operate the device settles in. Wide figured and all, we find it necessary to have a two-handed operation approach when handling the Samsung Galaxy Note, especially when our thumb is unable to encompass every corner of its display. In all fairness, the handset's sheer size is conveniently its most prized feature, since people take notice of it more than anything else. Actually, it's the kind of fresh device that'll circumvent conversation from random strangers who are intrigued by simply looking at it from afar.
Overlooking its beastly figure, the Samsung Galaxy Note bears many of the same design characteristics that have been established by the Galaxy S II family. Sporting that typical Samsung construction, with its all-plastic casing and all, it's hardly anything that stands out, but we're grateful to find it retaining the same streamlined (0.38" thin) appearance of the international GSM version – especially when it's packing an LTE radio. With its accompanying weight (6.45 oz), it's minutely heavier than the original version, but warranted in giving it a solid sense of durability.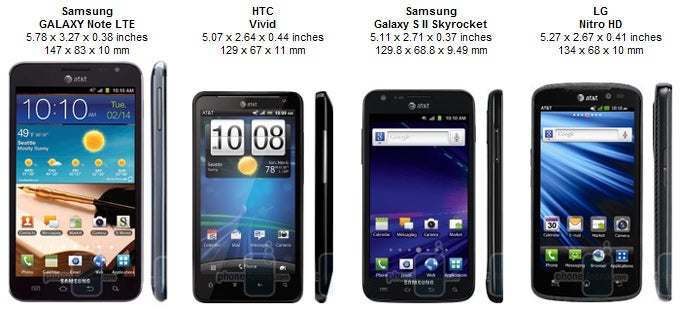 You can compare the Samsung Galaxy Note LTE with many other phones using our
Size Visualization Tool
.
Overall, there isn't a whole lot different with the handset's design, but it now features the usual set of
Android capacitive buttons
beneath its display, as opposed to finding the physical home button like before. Additionally, it bears AT&T's name below its earpiece, with its
front-facing 2-megapixel camera
positioned nearby.
There's nothing out of place with the rest of the handset, since we find its volume rocker, power button, 3.5mm headset jack, noise cancellation microphone, and microUSB port around its sides. With the latter, we gain video-out functionality with the aid of an optional MHL adapter.
In the rear, its 8-megapixel auto-focus camera with LED flash is perched in its usual spot, while yanking apart its plastic rear cover grants us access to its SIM card slot, microSD card slot, and generous 2,500 mAh battery. Inconspicuously hidden away, the included
S Pen
(don't call it a stylus, says Samsung) is firmly held in place within its slot, which is located in the bottom right corner of the device.
Display:
Equally as eye-catching as its ginormous size, the 5.3" WXGA (800 x 1280) Super AMOLED display of the Samsung Galaxy Note is undoubtedly blessed with so much real estate. Magnificent in so many ways, some might be bummed to know that it utilizes the less favorable PenTile matrix arrangement, but nevertheless, we're impressed by its immaculate detail (285 ppi). Furthermore, it exhibits all of the qualities we adore with Super AMOLED displays in general – like its overly saturated color tones, deep contrast, wide-viewing angles, and a noticeably bluish tinge. Combining all of those elements, it removes the shock factor of being so large in size for a smartphone, but rather, it culminates all together to reel in prying eyes from afar to take notice of its polarizing beauty.
Samsung GALAXY Note LTE 360-degrees View:
Recommended Stories