What our readers think of the Galaxy Nexus
55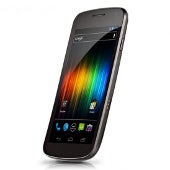 Since the very first substantial rumors about the
Samsung Galaxy Nexus
(or
Nexus Prime
, as it was known at that time), we've been consistently expressing our excitement for the handset. Of course, this excitement was shared by many of you, who just couldn't wait to finally get their hands on the next big thing from the Android camp. Eventually, we all got our product, and we here at PhoneArena made sure to carefully examine each and every little detail on the handset, in order to deliver
a fair, informative and helpful review
. The result was that at the end, we rated the Galaxy Nexus an outstanding 9.5 out of 10 - automatically positioning the phone up there with the very best.
But our review is only one side of the story. What follows right after we enter our last full stop is the endless avalanche of your experiences with the phone - amazing, productive, fun and, sometimes, disappointing. So, what if we take some of those experiences and place them front and center, so that all could see them? Wouldn't that be cool? Today we're doing just that. We have a good number of creative individuals who have decided to
write their own reviews
of the Galaxy Nexus, using our advanced User Review system, which lets you share your feelings about a certain handset and rate its different aspects.
We just couldn't help it, guys, we read through all of those user phone reviews, and are re-posting some the best ones right here. As expected, not all of you are sharing the same opinion about the phone. Some have even stated their disappointment with the handset, but of course, most of you have decided to
praise it for its beautiful screen and polished software
...

Unstoppable! I love this phone!
by dinodxynex

There are far too many aspects I can touch on but, overall, all I can say is that my experience with this phone has been absolutely excellent. I'm a very heavy social network user, I depend on my job's Exchange server for all of my business needs, multimedia is by far excellent, call quality is great and Google's custom apps are absolutely incredible. Google's video Hangout (and video Google Talk) over data can't be beat. Quality of the phone's build is awesome, really feels good in the hand.

Finally but, absolutely not the least, watching my HD videos have never been so satisfying.

Overall rating: 9/10

Dream Phone
by Skidro13
I love nearly everything about this phone. The LTE is very quick, and the dual core pushes the phone to have a very fluid and satisfying feel. The ear buds that came with it are pretty great as well. I get a solid 12 hours of battery on normal to heavy usage. It is future proof unlike the razr or rezound which is why I bought it. Its no wonder the Galaxy Nexus has been called "The best phone ever made" my multiple sites.
Overall rating: 10/10
As we said,
not everyone is content with the Nexus
. For some users, it's a smartphone just like any other which has nothing that impressive to make it stand out...
An average phone, not that great
by mobileuser
Pick up this phone instead of the Razr, what a wrong decision. Two days after having this phone I already feel I want to get rid of it because of the ugly curve surface like the Nexus one. Every time I look at it, I feel the phone has a bend screen. Also, the call quality is very poor. The earpiece volume is too low for me and it drop calls quite frequently. The UI in ICS 4 are good but not ease of use. I like the 4 capacitive buttons more than just the 3 in the nexus because I feel I am in control of the phone with more buttons than less,althought it is better than some of the Gingerbread phone. The camera is just average and is not as good as SGSII. When try to take a video, I noticed that it shoots at a lower frame rate than the razr. The multimedia is however quite good. The battery life is rather poor under the LTE network.I hope I have the smart actions apps in the Razr so that I can use it to save the battery power.
Also, I fidn out that thsi phoen is not as quick as otehr android phoen runnign gingerbread, I lose in most benchmark test. All in all, I am not enjoying this phone because I get upset about the bend screen and the heavily plasticity feel. I deeply regret that I did not take the Razr to start with.
Overall rating: 6/10
Unfortunately, the Nexus' uninspired design and problematic connectivity that some have experienced have led to other, somewhat
more negative reviews
...
Underwhelmed by the Hardware
by scott1965
My main reason for purchasing this phone was the screen size. However, after using the phone for a few days I returned the phone and purchased the Razr because I was disappointed with the quality of the phone and reception. I expected much more from a high end device.
Regarding my comments about the reception and data, I also have a Droid Bionic and Razr that work great in these areas. I also had a phone that did not have data or reception issues.
Overall rating: 3/10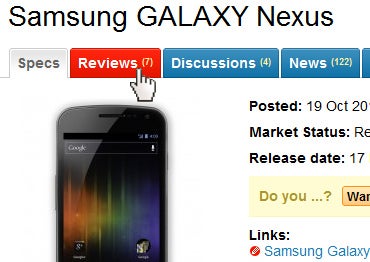 So, dear reader, what is
your opinion
of the Samsung Galaxy Nexus? Is it similar to what some of the other readers have expressed in their user reviews? Maybe you have a completely different story to tell us? Whatever it is, don't hesitate to share it by
writing a user review
yourself and let our audience discover it! All you have to do is go to your phone's specs, and click on the second tab, called "Reviews", as shown in the image.
I WANT TO WRITE A GALAXY NEXUS USER REVIEW NOW!