What do you think is Samsung's phones' biggest drawback?
99+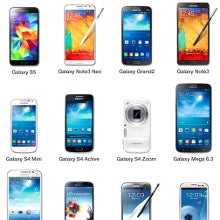 There are major changes brewing at Samsung, and chief among those is the fact that we will be seeing far fewer Galaxy Megas, Cores, Grands, Aces and so on. Even we already lost count of those, and we doubt anyone is trying to keep up anyway, as the tens of phones that Samsung is turning every year with very minor specs and design differences to each other and even their predecessors got very confusing very quickly.
This portfolio slimming results from profit margins that slipped from the double to the single digits since the
Galaxy S5
was introduced earlier in the spring. Samsung usually has a bestseller on its hand with each Galaxy S line flagship release, but not this year, as well-tailored competitors from Sony, HTC, LG, and even Huawei and Xiaomi, managed to make the S5 just one of the many. Now Samsung is compensating with the decked-out Note 4, but in the meantime it issued a memo to suppliers for cutting costs by 30%, intending to "increase the number of components shared across mid- to low-end models, so that we can further leverage economies of scale," as per one executive.
An eventual
dual-edged Galaxy S6
, or whatever the
Project Zero
undertaking gets named in the end might mark a major change in direction for Samsung, as already hinted by the Galaxy Alpha line, that's why we wanted to ask you what do you consider Samsung's phones biggest drawback to be at the moment. Is it the design, the software, the price, or simply the confusing variety of similar handsets it spits out every year.