What T-Mobile's coverage map should look like at the end of the year
15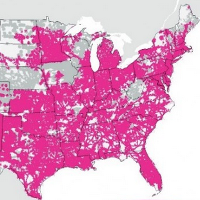 T-Mobile currently covers 265 million Americans with its 4G LTE service. It is no secret that CEO John Legere is looking for the carrier to hit 300 million at the end of the year. Recently, Legere made a presentation during
Deutsche Telekom Capital Markets
Day. At the event, he showed a pair of slides that explains it all.
The slides show the 4G LTE coverage offered by T-Mobile at the end of 2014, and the expected coverage by the end of this year. What makes this amazing is that in the first quarter of 2013, T-Mobile had absolutely no 4G LTE signals and was using HSPA+ to offer 4G data.
At the Deutsche Telekom Capital Markets presentation (the German teleco own 67% of T-Mobile's shares), T-Mobile noted that it will cover 150 markets with its wide band LTE by the end of the year. These regions will suffer less congestion, fewer dropped calls and faster data speeds. And the company is
working feverishly to deploy its 700MHz Band 12 spectrum in certain markets
. This frequency is able to send signals a longer distance with improved penetration inside buildings. T-Mobile is employing 700MHz frequencies in cities like Washington DC, Dallas, Houston, Cleveland and Minneapolis.
If you have some time to kill, you can check out Mr. Legere's presentation at the Deutsche Telekom event by clicking on the video below. If you've never had the pleasure of seeing the executive in action, here is your chance.
source:
DeutscheTelekom
via
HowardForum