What I wanted from the Google Nexus 5X (as a Nexus 5 owner)
38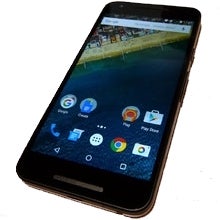 Compared to many other handsets out there, Google's Nexus smartphones aren't exactly hot sellers. Nevertheless, they are important devices: they're always the first to run Google's latest major iterations of Android, and to receive updates.
With the exception of the first two Nexus handsets (the HTC-made Nexus One from early 2010 and the Samsung-made Nexus S from late 2010), Google released just one Nexus smartphone per year: Galaxy Nexus (2011), Nexus 4 (2012), Nexus 5 (2013), and Nexus 6 (2014). Yesterday, however, was a special day, as Google announced two new Nexus phones at the same time: the
Nexus 5X
and
Nexus 6P
.
The 6P is made by Huawei, and is the successor to the Motorola-made Nexus 6 from last year. The 5X is manufactured by LG, obviously succeeding the Nexus 5 from 2013. Both new devices run stock Android 6.0 Marshmallow out of the box - an important aspect for many users, including myself.
Despite the fact that there are lots and lots of fancier and more advanced handsets out there, I currently use the
Nexus 5 2013
as my main smartphone. I wanted to buy the Motorola Nexus 6, but I realized that this was simply too large for me. It's not that my hands are small or anything - they're normal. But I just don't feel comfortable with a phone the size of the Nexus 6 (159.26 x 82.98 x 10.06 mm, or 6.27 x 3.27 x 0.40 inches). The Nexus 6P is about as large as the Nexus 6, so, once again, it's not for me. Before the Nexus 5, I've owned the Nexus 4, also manufactured by LG. Thus, I was more than happy to find out about a possible new and relatively compact LG-made Nexus. Of course, this turned out to be the Nexus 5X, which I'm planning to make my next smartphone, as it's offering most of the things that I've been expecting from a Nexus 5 successor. Read on to find out more.
Design and construction

At 147 x 72.6 x 7.9 mm (5.79 x 2.86 x 0.31 inches), the Nexus 5X is obviously larger than the Nexus 5, but it's still OK for me to feel comfortable with in hand (and pocket). When you first lay your eyes on it, the Nexus 5X might trick you into believing that it has dual front-facing speakers - after all, there's a grille at the top, and another one, symmetrical, at the bottom. Weirdly, only the top grille is hiding a speaker. The reason behind the existence of the bottom grille is a mysterious one, though we do know that it hides an RGB notification LED light (which is a good thing, since the notification LED light on the older Nexus 5 is a feature that I really like). All in all, this new dual grille setup makes the Nexus 5X resemble a Motorola handset, at least from the front. I'm not yet convinced that I like this design, but perhaps it'll grow on me. In any case, I would have preferred a cleaner appearance for the front, à la Nexus 5 2013. As for the back of the 5X, this is a bit crowed at the top, but it doesn't look bad to me anyway.
Although it's not a metal device (it's made out of polycarbonate, to be precise), the Nexus 5X seemingly has a better build quality compared to the model from 2013. It's not that the Nexus 5 is terrible in this regard, but there are some questionable things about its construction, like the flimsy volume and power buttons, which often feel like they're about to fall off.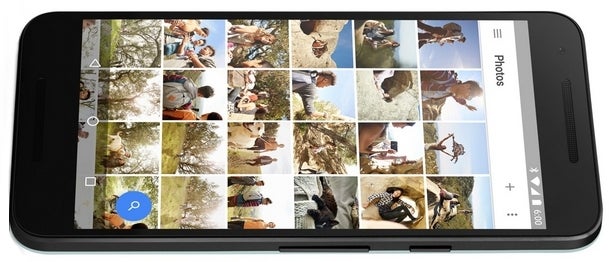 Display

Like the Nexus 5, the 5X is a handset with a 1080 x 1920 pixels IPS LCD screen. However, the screen size has been bumped from 5 inches to 5.2 inches, so the ppi density is now a tad lower: 423 ppi vs 445 ppi. Still, this is a perfectly fine ppi density (for example, it's higher than the ppi density of any iPhone), so I have no complaints regarding the new screen. From what I'm seeing, color accuracy is good - just as it is on the Nexus 5.
Processor, RAM and storage space

The Nexus 5 is powered by a quad-core Snapdragon 800 processor coupled with 2 GB of RAM, which does an excellent job at providing a smooth overall performance. The Nexus 5X obviously has a newer and better processor: a 64-bit, six-core Snapdragon 808 processor (also used on LG's G4 flagship), so it's definitely superior in this regard. What's a bit disappointing is that the new Nexus also has 2 GB of RAM. However, since we're talking about a stock Android 6.0 Marshmallow device here, I don't think this should be a cause of concern for anyone.
I wasn't really expecting the Nexus 5X to feature a microSD card slot (and it doesn't), but I was hoping the base model would have 32 GB of storage space, so the more expensive one would offer 64 GB. In reality, the cheaper Nexus 5X model ($379) only has 16 GB of internal memory, which will likely translate into about 12 GB of storage space that you can actually use. That's far from being great, so I'll certainly stay away from the 16 GB model, instead going for the Nexus 5X 32 GB ($429).
Camera and fingerprint sensor

I
Like the Nexus 6P
, the 5X has a brand new 12.3 MP rear camera (with f/2/0 aperture) which seems to be utilizing a 1/2.3" Sony IMX377 sensor. The camera's pixels are larger (1.55μm) than what you normally find on mobile cameras - this should allow it to take better photos in low light situations, despite the fact that there's no Optical Image Stabilization on board.
First photo samples
from Google's new camera look very promising - this could be one of the best smartphone cameras we've seen thus far (not just from Google). The Nexus 5X can also shoot 4K video at 30fps, which is a nice addition.
To be honest, the absence of a fingerprint scanner wouldn't have been a deal breaker for me. But I do appreciate the fact that Google has packed a fingerprint sensor on the back of the Nexus 5X, just like on the more expensive Nexus 6P. Fingerprint sensors are becoming the norm on high-end smartphones, and, with the arrival of Android Pay, Google wanted its new Nexus family to be safe and future-proof from this point of view.
Battery and phone calls

Battery life on my Nexus 5 (currently running Android
5.1
.1 Lollipop) is not horrible, but, obviously, there's room for improvement. The Nexus 5X comes with a 2700 mAh battery which, according to Google, lasts "all day." This is larger than the 2300 mAh battery of the Nexus 5, and, paired with the new Doze feature of Android 6.0 Marshmallow, should provide satisfactory usage and stand-by times.
Since the Nexus 5X is a phone at its core, I do hope that it's going to handle voice calls without any problems. And it most likely will, seeing that it includes 3 microphones (1 front, 1 top, 1 bottom) with noise cancellation.
Final words

Unfortunately, the Nexus 5X may not
start shipping before late October
, so it looks like I'll have to wait about a month to actually own one and see if it's as good as I expect it to be. Right now, though, after checking out its official features, and plenty of hands-on videos (starting with ours, which you
should watch
), I think this will be a worthy successor to the Nexus 5, and I'm pretty excited about its upcoming launch. Of course, my Nexus 5 will soon be updated to Android 6.0 Marshmallow, so I'm getting new software features anyway, but I do need newer and better hardware, and that's where the Nexus 5X comes in. What about you? Is the Nexus 5X a smartphone that you'd consider buying?
Google Nexus 5X