We are at Google I/O 2015!
6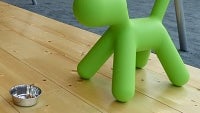 Here we go!
Google's developer conference
is set to kick off Thursday morning. Expectations and excitement is high. Of course anticipation is always a bit wondrous just before festivities get underway, but there is a lot to be excited about.
Android Auto is taking the stage, Google Maps turns 10 years old, Android M is also expected to tip its hat. Google is expected to officially announce a two-year OS update cycle, and three year OS security update cycle for the Android platform.
Other rumors have been speculating about a possible acknowledgement to a 2015 edition of an LG built Nexus device. This rumored Nexus would have a smaller display than the big-boy Nexus 6, offering a more mainstream size that many would find appealing.
Project Ara, Project Tango, Android TV, Android Wear, Chrome OS, the possibilities are left only to the imagination. The main floor of the Moscone West convention center revealed little, just as in previous Google I/O events,
like last year
, and in
2013
.
We will be liveblogging the Keynote Address, and covering all the cool stuff at Google I/O 2015. Keep checking back with us for all the latest.