Watch the clouds move! Best time-lapsing apps for Android
1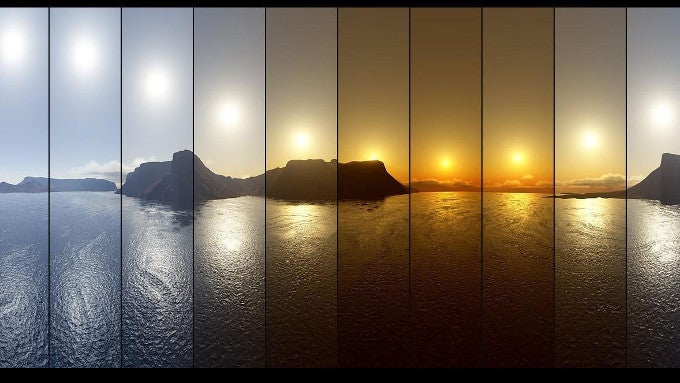 Ever wondered how they make those super fast-
motion
clips, where you can watch the sun rise and set, the stars and clouds move, or the city being super-lively, just like an ant farm? Well, the technique is called time-lapse and is achieved by capturing film frames (or taking photos) at a very low frequency – for example, one frame per 6 seconds. A normal video plays 30 frames per second, so if we put our 6-second shots in a clip, this means that each second of the clip will show us 3 minutes (6 x 30 = 180 seconds) of real-life time, passing by super fast – thus time-lapsing.
There are quite a bit of smartphones out there that offer time-lapse mode built-in their Camera apps, but there are even more that don't have this feature. But hey, fear not – the Play Store is here to help! Of course, the place is littered with apps that offer this function for those that don't have it natively on their phones. We dug through and came up with 4 distinct, great time-lapsing apps. Let's check them out!
Framelapse
Price: free
Framelapse does exactly what you would expect a time-lapsing app to do – you choose the frequency at which the camera is going to shoot (ranging from 0.1 seconds to 60 seconds, custom user setting available), choose the length that you want your final movie to be (ergo – when the camera should stop shooting), and the resolution of the images. Prop up the camera and hit record, then come back after x amount of time and check out the result.
Timelapse
Price: free
We chose Timelapse for its simplicity – the app only consists of a viewfinder, a "Fast, Faster, Fastest" setting, and a record button – that's it (full disclosure – an ad banner can appear on top, too). Once you stop recording, you are presented with a Share button – and the video is off on its marry way. So, if you want to start time-lapsing ASAP, or just don't want to deal with any sort of setting – grab this one.
Time Movie
Price: free
Time Movie goes just a bit deeper with the settings – first you set the frequency of shots, then the amount of time you want the phone to be capturing for. The Settings contain options for video quality, resolution, and a mirror effect if you happen to be using the frontal cam of the device. Once a video is finished, you can not only choose the speed at which it is played, but you can also slow it down, and can also add a soundtrack to it from a selection of melodies that are present in the app, or add your own. This means that if you initially choose to shoot the video at normal speed, you can later use the slowdown option as a makeshift slow motion mode. Of course, it won't be as good as the stock ones on flagships that shoot with 60 FPS, 120 FPS, or even 240 FPS, but it'll still do OK.
Microsoft Hyperlapse
Price: free
With Hyperlapse, Microsoft set out to help users create time-lapsed videos of their hikes or rides, but without shakiness. The idea is that we sometimes want to share clips that are just a bit too long, with a lot of nothing inbetween interesting points, so they end up being unwatched even by us. Hyperlapse tries to remedy this by letting us speed up said clips, but keep them relatively un-shaky. There's a lot working in the background, as we've seen in tech demos before.