Watch the BlackBerry Passport get torn down with screwdrivers and a tweezer
7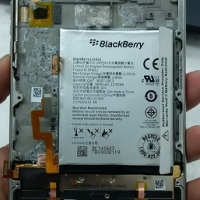 If you ever need to take apart your
BlackBerry Passport
, the video embedded below might be a big help. It looks like a set of screwdrivers will get the job done. Oh yes, a pair of tweezers is needed to help you pull components out of the new business-oriented handset. The 3400mAh battery seems to take up most of the inside of the device.
We know what you're thinking. Doesn't BlackBerry say that there is a 3450mAh juicer on the device? As it turns out, pre-production models of BlackBerry's new flagship smartphone had a 3400mAh cell. Does that mean that whomever owns this model
can put it on eBay and get a bid of $60,000?
Uh, no.
You might have noticed that this was not the same type of extensive teardown that you might see from iFixit. But it does give you an idea what the inside of the phone looks like. And if you want to see a luxurious look of what the outside looks like, on Monday we passed along
pictures of the drool-worthy phone in Gold
.
source:
BlackBerryVietnamForum
via
Crackberry