Video shows how Android grew to dominate the global mobile OS market
23
Right now, Android is the most popular mobile operating system in the world with an impressive 85% share of the global market. But which mobile OS did Android top to take the crown?
A video posted on YouTube by Data is Beautiful
shows the top mobile operating systems from 1999-2019. What is interesting is watching as names on the top of the list, such as PalmOS which dominated with a share of 73.94% back in 1999, lose share, drop down and disappear. Keep in mind that PalmOS, BlackBerry OS, Symbian, and Windows Mobile were all originally developed to run personal digital assistants (PDA) and later versions were used on smartphones.
As PalmOS lost market share, Windows Mobile picked up steam. By the third quarter of 2001, PalmOS had a 51.28% slice of the pie while Windows Mobile was next with 31.30%. Symbian and BlackBerry OS were third and fourth with 3.32% and 2.79% of the mobile operating system market, respectively. In 2002, both PalmOS and Windows Mobile started to lose ground to Symbian which soon was installed in smartphones including Nokia's top media-driven "N" series phones. By the first quarter of 2003, Symbian overtook Windows Mobile, trailing PalmOS by a count of 35.41% to 24.28%. Six months later, Symbian was at the top with nearly 35% of the global market. PalmOS and Windows Mobile kept losing share while BlackBerry OS remained stable.
No operating system, no matter how dominating it is at one point in time, will stay on top forever

By the first quarter of 2006, Symbian had a commanding 60.08% share of the global mobile operating system market. In second was PalmOS (12.72%) followed by Windows Mobile (9.25%) and BlackBerry OS (8%). In January 2007,
when Steve Jobs held up the brand spanking new Apple iPhone
in front of an adoring MacWorld crowd, PalmOS had dropped to third with Symbian remaining on top with basically the same share it had the year before. And during the second quarter of 2007, when the iPhone was finally launched, iPhone OS (later named iOS) had just .64% of the market. By the end of 2007, a shakeup was taking place as a result of the iPhone. While Symbian still led with a higher than 59% share, Windows Mobile and BlackBerry OS were neck and neck for second place. Apple's iOS was third with PalmOS now last. As 2008 kicked off, BlackBerry moved into second place and Symbian was beginning to lose market share. Android first appeared in the fourth quarter of 2008 and debuted in sixth place.
A new challenger, Palm's webOS, came into the picture
with the release of the
Palm Pre
in 2009.
By the second quarter of 2009, Android moved to fifth place with a 2.18% share. That trailed the 48.58% owned by Symbian, BlackBerry OS' 19.05%, and the 13.71% owned by iOS. But it took the release of the
Motorola DROID
in November to really give Android a jump-start; it was the first phone to be powered by Android 2.0. The DROID and the
Nexus One
helped Android move into fourth place during the first quarter of 2010. By the next quarter, Android had overtaken iOS and was trailing only Symbian and BlackBerry OS. During the next quarter, fast-growing Android had jumped ahead of BlackBerry OS and had its sights set on Symbian. Finally, during the first quarter of 2011, Android took the top spot as one out of every three smartphones sold was running the operating system. It is a position that Google's open source OS has yet to relinquish. By the end of this year, Android had a market share of slightly over 50%. Apple's iOS was now second with a bit over 19%.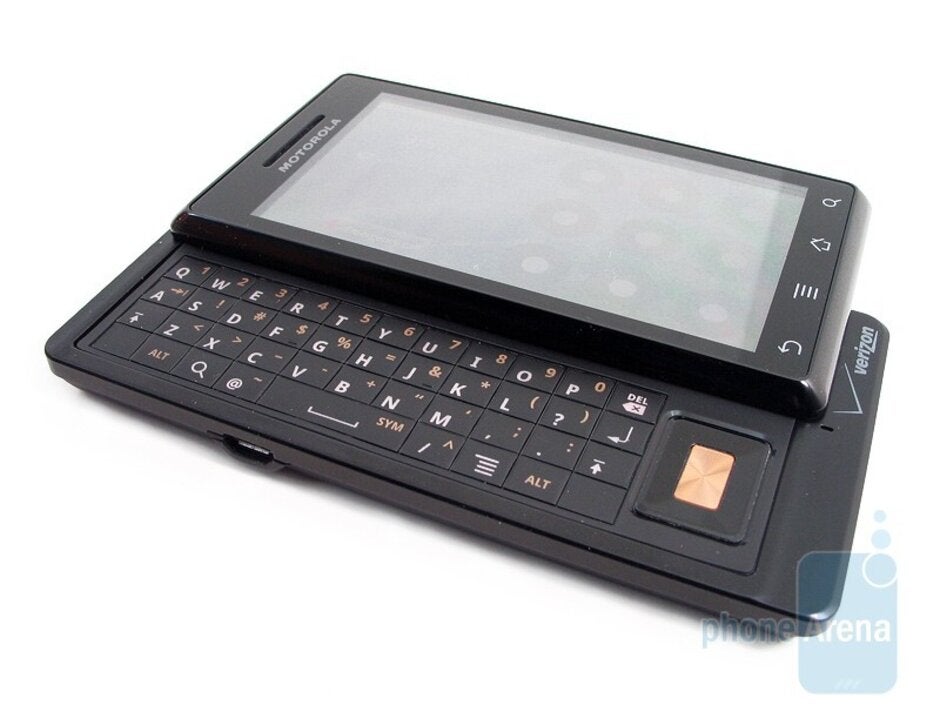 Android got a jump start when the Motorola DROID was released in November 2009
During the first quarter of 2014, Android had a market share in excess of 81%. Apple's iOS was next with 13.95% while the remaining names on the list (Windows Mobile, BlackBerry OS, Bada and Firefox OS) were barely clinging to life. Symbian, which once had a 60% share, was gone. By the second quarter of 2016, BlackBerry OS was down to .14% and was at .04% just two quarters later. KaiOS, which brings smartphone functionality to low priced phones, joined the club at this point, moving into third place mid-way through 2017.

The latest data covering the third quarter of 2019 (which ended at the end of September) shows Android with a global market share of 85.23% followed by 10.63% for iOS, 4.13% for KaiOS and .01% for Windows. But Google cannot afford to sit back and relax. If history has taught us anything about mobile operating systems, it's that no OS stays at the top forever and even those dominating the market can always end up disappearing in the future.