Watch an amazing trick as a celebrity Apple iPhone 5c disappears
17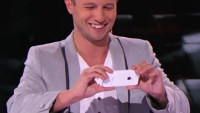 How appropriate that on the day before the latest versions of the Apple iPhone will appear, we show you a clip of an amazing magic trick that makes an iPhone disappear. The trick was performed two weeks ago by magician Matt Franco on
America's Got Talent
, the summer long talent show that has traditionally chewed up and spit out magicians.
Matt Franco has made it pretty far in the competition with a brand of close-up magic that is somehow suitable for the big screen. This trick starts with three judges picking out a card. Franco then takes a picture of former Spice Girl Mel B. holding the three cards. For the picture, Franco borrows Scary Spice's
Apple iPhone 5c
. And she really got scary when Franco dropped her handset into a cup of Snapple.
The right thing to do would have been to put the phone in a bag of rice. But not having that available, Franco put the iPhone in a cloth napkin and tried to dry it off with a hair dryer. We don't want to give away the rest of this amazing trick, so we suggest that you click on the video below. Be prepared to get blown away. By the way, there is another iPhone that gets a quick cameo in the clip. Heidi Klum's
Apple iPhone 5s
is used in the trick to call Mel B's missing phone.
source:
AGT