Watch T-Mobile CEO John Legere get iced
14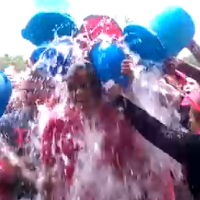 Is there any current executive in the mobile industry more popular with the consumer than T-Mobile CEO John Legere? With his casual dress, longish hair and affinity for the Caped Crusader, Legere is unlike most executives who feel compelled to keep their hair short, and wear expensive suits. His popularity can be judged by the huge number of tweets that he receives daily.
Of course, it isn't all wireless connectivity, handsets and tablets for the executive, who took time off from his busy schedule to get involved in the
Ice Bucket Challenge
. Celebrities in all fields have been getting doused with buckets of ice-cold water all for a good cause. The events are being conducted to raise money for ALS, better known as Lou Gehrig's disease.
Besides Legere, T-Mobile CFO Mike Sievert also took part in the challenge. Part of the process involves challenging other celebrities and executives to take part, which has turned the Ice Bucket Challenge into a viral spectacle around the globe. Legere was nominated to take the challenge by CNBC reporter Carl Quintanilla. Standing outside a T-Mobile call center in Maine, Legere challenged the CEOs of Verizon, AT&T and Sprint to face the Ice Bucket. The T-Mobile CEO gave each of them 24 hours to meet the challenge. Hey, it is for a good cause after all.
source:
T-Mobile
via
TmoNews
UPDATE: AT&T has reached out to us to let us know that Ralph de la Vega, CEO of AT&T Mobility, also took the Ice Bucket Challenge as you can see in the video below. The executive was challenged by an AT&T employee and got drenched even before Legere challenged others to take part in the fund raiser.
source: AT&T