Watch HTC Windows Phone event full video here: "we've sold more Windows Phone than anyone"
46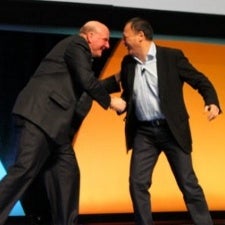 HTC and Microsoft jointly announced the new Windows Phone 8X and 8S a couple of days ago, and we were genuinely impressed with both the design and ground-up approach from HTC. It's definitely worth watching the whole event just for that, but if you want to dig deeper, you should watch it and try to notice the numerous small hidden jabs at Nokia that HTC took.
What's more, Microsoft's chief executive Steve Ballmer appeared on stage with HTC's head Peter Chou to showcase the products and himself said that the gadgets are
"truly a Windows Phone hero devices."
HTC underlined that not only it has "more experience making Windows Phone than anyone," but is also
the company that has

"sold more Windows Phone than anyone,"
and
anyone
here sounded like a pretty clear jab at Nokia, the company that bet its future solely on Windows Phone.
HTC and Microsoft's admitted that's their
"biggest endeavour yet"
and the Taiwanese phone maker also stressed that the two have "one of the longest standing partnerships" in the mobile industry."
With those ailing Nokia Windows Phone sales, we wonder how Nokia felt after that. Check out the full event below, it definitely offers an interesting spectacle for those following the mobile drama story.