Want a quad-core, dual-SIM, high-res, Jelly Bean smartphone for under $300? Try India
23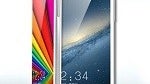 ZTE and Huawei have been getting a lot of well earned attention with their product announcements at CES in Las Vegas and MWC in Barcelona.
Huawei and ZTE are also large telecom switch manufacturers, so those companies already have a global framework to grow their mobile offerings through. That does not mean they are the only players that are up-and-coming in China however. One of the manufacturers in the shadow of Huawei and ZTE is a company called Umi Mobiles.
Umi is widening its product line out of China and taking some pretty sharp specifications to markets in India, Brazil and Malaysia. The company's latest product, the Umi X2 Quadcore is an Android 4.1 handset with a 5-inch 1920x1080 resolution display using Gorilla Glass 2. Yes, that is 441 pixels-per-inch. The X2 does not support LTE, but that may be a worthy trade-off given its 3MP front facing camera, 13MP main camera, 2GB of RAM, 32GB of storage (microSD expandable) and a MediaTek quad-core 1.2GHz CPU. All that is packed in to a device that is 8.9mm thin, weighs 155 grams, and has a 2,500mAh battery to let the user hop along on HSPA data supporting a dual-SIM arrangement.
The specifications in some ways are not mind blowing, but they are nothing to sneeze at either. We do not know the quality of the camera, but it can record HD video, and the device has all the other necessary amenities, like GPS, Bluetooth and Wi-Fi. What is mind blowing is the price, ₹14,000 (₹ is the currency sign for Indian Rupees in case you did not know), which comes in at about $260.
Of course the device will not be sold in the US, or Europe for that matter. Plus, there is the often proven adage, "you get what you pay for." However, there are not any real unknown components that would make us think "exotic," it is just high-spec. If any of our readers in India, Brazil, China or Malaysia decide to pick one up, let us know how you like it. The Umi X2 Quadcore will be available sometime between the 15th and 20th of March.
Thanks to Prannoy for the heads-up!
source:
Umi Mobiles
Recommended Stories