Wall Street brokerage firm not impressed with lighting of Torch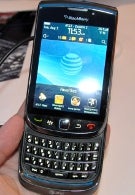 Wall Street trading house Goldman Sachs is telling clients that RIM's new BlackBerry Torch is off to an underwhelming start. Launched on the same day as the sequel to the hugely popular Motorola DROID, the Torch was clearly overshadowed by the first Android device to launch with Android 2.2 and Adobe Flash Player 10.1. With both models priced at the same $199.99 after rebate and a signed 2 -year contract, the DROID 2 is faster than the 'Berry as the former was equipped with a 1GHz processor compared to the latter's 624MHz Marvell chipset. The display on the Torch is also a pedestrian 360 x 480 pixels on a
3.2
inch screen while the Motorola handset was released with a 3.7 inch display featuring resolution of 854 x 480 pixels.
The Torch brings a new form factor to RIM as the phone combines a touchscreen with a portrait sliding QWERTY keyboard, answering the prayers of 'Berry fans who were wishing that the manufacturer would produce a touchscreen model with one of RIM's highly praised QWERTY keyboards. At the same time, the handset is the debut of the BlackBerry 6 OS which RIM designed to make BlackBerry models more multimedia capable than in the past. And in a strong effort to close the large lead in browsing that the iPhone 4 and Android devices have over BlackBerry, RIM has introduced its new WebKit browser on the Torch.
Goldman told traders that "that nearly all of the stores they called did not sell out of the device," while the iPhone 4 and Android models like the EVO 4G and DROID X were very hard to find in stock immediately after they were each launched by their respective carrier. An anonymous AT&T employee has told Forbes that the carrier considers the Torch its most significant non-iPhone launch this year.
RIM BlackBerry Torch 9800 Specifications
|
Review
source:
BuisinessInsider
,
Forbes