Wacom's newly announced MobileStudio Pro features Windows 10 and 3D cameras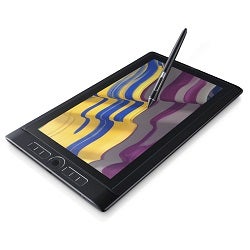 If you happen to be someone that's involved in the field of graphic design, CAD, game design, or anything else along those lines, you're more than likely familiar with the Wacom brand. Wacom is easily one of the biggest names out there when it comes to creating tools for digital design, and their drawing tablets and styluses are easily some of the most popular gadgets of the company's. Wacom has always been about providing designers and artists with the tools they need to create artwork in the digital world, and the company is continuing that legacy with the MobileStudio Pro.
Wacom's MobileStudio Pro might look like a traditional Windows 10-powered tablet on the surface, but there's a lot more going on here than a simple computing device. One of the most notable inclusions with the MobileStudio Pro is the Wacom Pro Pen 2. The Pro Pen 2 features pen accuracy and pressure sensitivity that's 4 times greater than what was found on the previous generation, so this should prove to be the ultimate stylus when it comes to drawing, sketching, etc. Wacom has 2 different variants that they're offering the tablet in (MobileStudio Pro 13 and 16), and each variant also comes with its own separate models.
The 4 models included in the Pro 13 series feature a 13.3-inch display with a 2.5K resolution, IPS panel, and an Adobe RGB rating of 96%. The remaining two models (the ones in the Pro 16 series) feature 15.6-inch displays with a 4K resolution, IPS panel, and an Adobe RGB rating of 94%. And, if you happen to opt for either the MobileStudio Pro 13 or 16 that has a 512 GB SSD, you'll also get a 3D camera.
As for the exact pricing of the various models that Wacom is offering, here's what they look like -
MobileStudio Pro 13 series
64GB SSD = $1,499
128GB SSD = $1,799
256GB SSD = $1,999
512GB SSD = $2,499
MobileStudio Pro 16 series
256GB SSD / 2GB VRAM / NVIDIA Quadro M600M CPU = $2,399
512 GB SSD / 4GB VRAM / NVIDIA Quadro M1000M CPU = $2,999
Those prices are certainly on the higher side of things, but you've got to remember that these are tablets being made and marketed for the professional market. Wacom has built the MobileStudio Pro to be the "ultimate creative tool" for professional artists and designers, and it really doesn't look like Wacom held any punches at all with this one. If you're interested in the Wacom MobileStudio Pro, you can pick it up both online and from certain retail stores starting sometime in November.