Wacom announces Cintiq Companion tablets, built for artists and graphics designers
16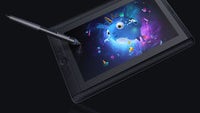 When we bring you news about a tablet carrying a super-steep price tag, the device in question is
either made of precious metals
, or
designed to withstand a small explosion.
This case, however, is a little bit different. Wacom – a company known for its professional products built for digital artists and graphics designers – has unveiled a couple of tablets aimed at that particular demographic.
The more expensive of the two is known as the Wacom Cintiq Companion and runs Windows 8. In terms of hardware, it comes with a 13.3-inch, 1920x1080 pixel display, third-gen Intel Core i7 processor, 8GB of RAM, and Intel HD Graphics 4000 – plenty of punch to run even heavy drawing or image-editing software. Included in the set is a must-have tool for any professional graphics designer, namely the Wacom Pro-Pen digital stylus with 2048 pressure sensitivity levels.
The Cintiq Companion Hybrid looks similar to Wacom's Windows 8 slate, but lifting its hood up reveals quite a few differences. First of all, the company's other tablet runs Android 4.2 Jelly Bean. What truly makes it special, however, is that the Hybrid can be connected to a Mac or a PC, acting a second screen on which one can draw. Hardware specs include a 13.3-inch display with resolution of 1920x1080 pixels, NVIDIA's quad-core Tegra 4 SoC, and 2GB of RAM, meaning that the device will rank among the most capable Android slates on the market. Wacom's Pro-Pen is also bundled with the device, along with the Wacom Creative Canvas software.
But as we already hinted, the Wacom Cintiq Companion and Cintiq Companion Hybrid won't come cheap. When it is launched in October, the Windows 8 model with retail for $2000 or $2500 depending on whether you want a 256- or 512GB SSD installed. The more affordable Android-based alternative will be released in September, carrying a $1500 and $1600 price tag for its 16- and 32GB variants respectively.
Alternatively, one can always grab just a stylus if the above two tablets are beyond their budget. Wacom's new Intuos Creative Stylus may be just the thing – it connects to an iPad over Bluetooth and handles 2048 levels of pressure. The accessory works with the company's Bamboo app for iOS, as well as with third-party software like Autodesk Sketchbook Pro and Procreate. It will be on the market in early October for $100.