Panasonic announces Windows 8 and Android based Toughpad tablets at CES
9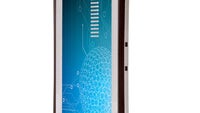 In addition to its
20-inch 4K behemoth
, Panasonic brought two more tablets to CES 2013. These are the latest additions to the company's lineup of highly durable mobile devices – the Toughpad FZ-G1, powered by the Windows 8 Pro operating system, and the Toughpad JT-B1 running Android.
What you need to know about the
Panasonic Toughpad FZ-G1
is that it carries both MIL-STD-810G and IP65 certifications, so it can survive all kinds of torture, from getting dropped onto concrete to being sprayed with water. Its 10.1-inch, 1920 by 800 pixel display has a brightness output of 800 nits for enhanced outdoor visibility. Under all that armor hides an Intel Core i5 processor paired with 4 or 8GB of RAM and an SSD of 128 or 256GB, depending on the user's needs. Connectivity-wise, you get Wi-Fi, Bluetooth, USB, and Ethernet ports, but optional GPS and 3G/4G modules can be had as well. The Panasonic Toughpad FZ-G1 weighs 1.1 kilograms and comes with a removable battery.
The
Panasonic Toughpad JT-B1
runs Android 4.0 Ice Cream Sandwich and is the more portable device among the two. It comes with a 7-inch, 1024 by 600 pixel screen boasting 500 nits of brightness output. At the same time, it is about as tough as its bigger counterpart, and its display is protected by Gorilla Glass 2. Under the hood we see a TI OMAP4460 dual-core system-on-a-chip running at 1.5GHz. There's also a gig of RAM and 16GB of storage tucked in there, in addition to a 1.3-megapixel main camera on the back and another 1.3MP snapper on the front side. All of the usual connectivity features come standard, including Wi-Fi, GPS, Bluetooth, and NFC, but you also have the option to throw in a 4G module as well. The Panasonic Toughpad JT-B1 comes with removable battery as well.

As far as pricing is concerned, you'll have to drop a substantial amount of cash in case you want one of these tough devices. The Android-powered Toughpad JT-B1 will cost $1199 when it is launched in February, while the Windows-based Toughpad FZ-G1 will carry a $2899 price tag when it is released in March.