World gets its first 24ct gold iPad 3 for those who need to show off their riches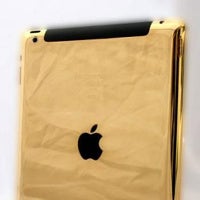 The world is in no shortage of weird, extremely luxurious devices that are built to look good but serve no other purpose. Shady and obviously extremely wealthy gentlemen usually buy them as a status symbol, and this iPad is almost no exception. Luckily, though, it's still preserved its iPad guts and functionality, so it's a pretty capable product, and on top of that it comes
bathed in 24-carat pure gold
.
Unveiled shortly after its international launch, the shiny iPad is made by British gadget outfitters Gold & Co. Not surprisingly, it made its debut in the United Arab Emirates where the first one was auctioned with all the proceeding donated to charity.
All other units however will seek to maximize profit and with a
price tag
of $5,500 for the offered model, iPad 3 64GB with 4G, we see how the profit could be huge. If a golden iPhone 4S is
"your thing"
than get ready to spend $4,349. Finally, for those remaining 'Berry loyalists, the firm offers a gold BlackBerry 9900 for $2,449. But you can't really put a price on a superinflated ego, can you? Because that's the only thing that gets boosted by a gold iPad.