WSJ: Nokia Lumia models remain discounted after holiday
5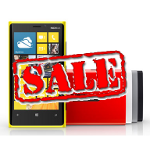 Nokia has a lot riding on the success of the Nokia Lumia line. Nothing short of the survival of the firm is at stake. But only a tad more than a month since it's U.S. launch, you can find Nokia Lumia models discounted heavily with some carriers offering certain models for free with a signed two year pact. Last month, the top-shelf
Nokia Lumia 920
launched in the States as an AT&T exclusive for $99 on contract while the
Nokia Lumia 822
, an exclusive to Verizon, was launched for $99 with a signed two-year contract. The Nokia Lumia 920 is still $99 at AT&T, but
can be found for $49.99 at Amazon
. The Nokia Lumia 822 is now
free at Big Red, with a signed two-year pact
. For what it's worth, the Nokia Lumia 920 is free from China Unicom with a 2-year handcuff and the
version of the phone designed for China Mobile's proprietary TD-SCDMA network is only 1 Yuan on contract
.
billionaire Mark Cuban said that he replaced his Apple iPhone 5 with an unnamed Nokia Luimia model
, saying that it "crushed" the
Apple iPhone 5
. Most likely, the outspoken Dallas Mavs owner sports the Nokia Lumia 920.
Other carriers are
offering Nokia Lumia models for free, including T-Mobile
which is giving away the
Nokia Lumia 810
to those who sign a two-year contract. The carrier said its deal was part of a limited time offering while Verizon wouldn't comment on its Nokia Lumia 822 pricing. Nokia really doesn't have much say in the pricing decisions. A spokesman for the Finnish based carrier, Doug Dawson, noted that "
pricing is always a carrier decision, but holiday season promotions are fairly standard at this time of year
." As if to prove that it isn't just Nokia phones being offered for free this holiday season, Dawson pointed out that
some Samsung branded phones
are free in certain markets.
Nokia hasn't released sales figures for the line, and the fact that there are so many discounts revolving around the manufacturer's Lumia models so soon after launch (despite the holiday season), has some analysts worried that sales figures are not as good as Wall Street expected and that Nokia needs.
source:
WSJ