WSJ: Apple Pay to launch in China by February
1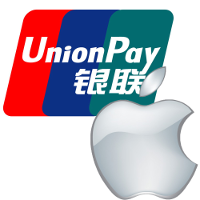 Despite China's growing importance to Apple when it comes to iPhone sales, the company has had trouble getting Chinese financial institutions to sign off on mobile payment service Apple Pay. For the third quarter, sales of the Apple iPhone in the greater China market (which includes Hong Kong and Taiwan) rose 87% year-over-year to $12.5 billion. With all of those newer model iPhones in use in the country, Apple has been
working for some time to get Apple Pay launched in China
.
One of the hurdles that Apple faced has been overcome. According to the Wall Street Journal, deals have been signed with four state-run banks. These agreements will allow Chinese consumers to have funds zapped out of their account by Apple Pay, to settle a transaction. Previously, these financial institutions had objected to the amount of each purchase that ends up in Apple's pocket. In the U.S., the tech titan reportedly takes .15% of Apple Pay purchases that employ a credit card. On Apple Pay transactions involving a debit card, Apple receives a flat rate of .5 cents. None of the four banks, Industrial & Commercial Bank of China Ltd., China Construction Bank Ltd., Agricultural Bank of China Ltd. and Bank of China Ltd., has issued a press release. Apple has also been silent
This doesn't mean that Apple Pay is home free in China as there are other regulatory agencies that need to be appeased. Regardless, Apple is aiming to launch Apple Pay in China before the country holds its Spring Festival Holiday on February 8th. One institution that is key to the entire approval process in China is UnionPay. The government run bank is the only one in China that processes credit cards, debit cards and other interbank dealings.
Once it launches in China, Apple Pay will face competition from Alibaba's Alipay, which has over 400 million users in the country. Alibaba and Apple are rumored to have had discussions about forming a partnership that would offer mobile payments.
Currently, Apple Pay is offered in the U.S., U.K., Canada and Australia. The service is supported by the
Apple iPhone 6
,
Apple iPhone 6 Plus
,
Apple iPhone 6s
,
Apple iPhone 6s Plus
and the
Apple Watch
.
source:
WSJ