Video shows off "Smart Actions" for Motorola DROID RAZR
6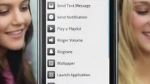 Motorola's "Smart Actions" is a nice application that will make its debut on the
Motorola DROID RAZR
and there is no reason why it couldn't be part of an update to some of its other recent Android devices. What "Smart Actions" does is enable the phone's user to set up certain conditions and situations that would set off specific actions by the phone. Sure, you can probably find a similar app in the Android Market, but isn't it nicer to find this app on your phone right out of the box?
Thanks to the internal clock on the handset and the GPS, you can set your screen to lower the brightness by 20% at a certain time of day, or turn off the sound at a certain location. Not only can this function as a battery saver (
increasing battery life by up to 30%
according to Motorola) by turning on and off certain features at specific times or places, you can also use "Smart Actions" to make sure that your favorite website is up on the browser, refreshed and up to date when you get up in the morning. You can also set your phone not to ring while at a meeting. Motorola includes some preloaded and suggested rules to help get you started.
source:
YouTube
via
Phandroid