Video of alleged next iPhone making the rounds, smells fishy
25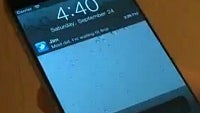 A short video of what is claimed to be the next iPhone has surfaced, and, on paper, it does combine elements from what we've heard about the iPhone (s)
about to be revealed on Tuesday
.
The screen looks bigger, with a very
thin bezel
on the sides, which is actually one of the sayings, but this larger display rumor was usually attributable to the fifth generation of the iPhone, which other hearsay pegs to be thinner, with aluminum back or chassis, and teardrop shape, judging from
some leaked cases and schematics
.
The one on the video looks like an iPhone 4, so it might have pretenses to be the
reported affordable iPhone 4S
, which is, however, usually associated with the rumor that
only the chipset might be changed to dual-core A5
, and the camera bumped to 8MP, rather than having a larger display.
Also, it's pointed out that the dates on the lock and homescreen don't match, and the game that the guy is running at one point in the video, starts before he had lifted finger from the touchscreen. Anyways, you can see the video below and judge for yourselves if it's plausible or just a cry for attention.
source:
GSMArena