Pictures of alleged Apple iPhone 4S casing show changes in antenna design
6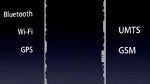 Pictures of what is
alleged to be the casing for the rumored lower priced Apple iPhone
model, let's call it the 4S, was obtained by MacRumors from iPatchiPods. The current GSM version of the Apple iPhone 4 has a single seam on top while the CDMA version has two seams on either side of the top. The seams separate the iPhone 4 into different antenna segments. There are two on the GSM version and three on the CDMA variant.
The picture that is claimed to be that of the iPhone 4S casing shows a unibody design without any seams which would
indicate a change in the antenna design
. If you recall, right after the Apple iPhone 4 was launched last year, the
Antennagate scandal started
as holding the handset in a certain fashion, with the left hand cupping the bottom of the device, led to reduced signal strength with what was called the "left-handed death grip". This happened because of the seams in the outer steel band around the phone doubled as an antenna and when held at the seams, allowed your hand to act as a bridge between the gap and resulted in attenuation of the signal. The new antenna design
would seem to eliminate such problems
.
The pictures show two antenna breaks at the bottom of the casing and there is space for a SIM card suggesting that at least,
the Apple iPhone 4S will support GSM connectivity
. And just like the iPhone 4, the mute button and volume button are on the same side on the lower priced variant, if these photos are legit. The bottom part of the casing doesn't appear to show any cut out area for the home button. Interestingly, the Apple iPhone 5 is expected to have a new home button that will support gesture-based navigation. Is it possible that the pictures are actually the casing for the next-gen Apple handset? Not according to the source for iPatchiPods who says that they are designed for the lower priced version of the Apple iPhone 4.
source:
MacRumors