Video of Nokia Lumia 820 reveals Nokia prototype, "Juggernaut Semaphone"
17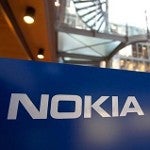 rather large screened Nokia prototype running Windows Phone 8
. As it turns out, the name of the device is the "
Juggernaut Semaphone
". While the screen size easily trumps the 4.3 inch display on the Nokia Lumia 820, the resolution remains 480 x 800. Unfortunately, that wouldn't work out to a great pixel density, but then again, this is only a prototype after all.
A video shot two weeks ago also seems to show off the "Juggernaut Semaphone".The video was allegedly hosted and posted by Igor Shastitko from Microsoft Ukraine and around the 8:15 mark, out comes the lumbering giant. You might notice the old style Windows Phone logo on the model. The video also displays some new Windows Phone 8 features such as
Bluetooth file sharing
.
We can't say for sure that Nokia is planning on producing such a beast, but Windows Phone 8 models are limited to 720p or 768p resolution which pretty much limits how big these screens can get. Regardless, would a model like the "Juggernaut Semaphone" be of any interest to you Windows Phone 8 users out there?
source:
YouTube
via
WPCentral