Video: iPhone 5 meets explosive end in microwave
22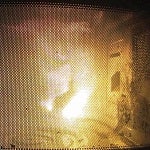 Indeed, only a professional microwaver-person with disposable income should try this at home. In fact, we are pretty sure that no one should try this any where for any reason.
Now that we have cleared that up, we know there is a morbid curiosity about what happens to devices when they are abused. We have seen the whole "Will it Blend" series as well as various other drop and torture tests to see what it takes to break our beloved mobile devices.
Those drop tests do serve a purpose in that they are arguably a representative example of what you can expect to happen to your device when it slips from your hands. This "experiment" serves no such noble calling. It is notable however, as this guy has microwaved hundreds of things in his "dOvetastic Microwave Theater." You have seen this action before
when a Samsung Galaxy S III got lit up
. This brand new iPhone 5, despite exploding into flames, comes out of the whole ordeal pretty much intact. The screen is gone, and it overall looks well done, but the back plate and whole back side survived intact. "The Malik 11000" ended up selling his work of "art" on eBay for $3,001.
This video is a little dated, but there is some background to why we are seeing it get some new life. Apparently, on the Japanese "noticeboard"
2channel
, a number of people have fallen victim to an anonymous post stating that the
iPhone 5 battery can be recharged by putting the device in the microwave for 20 seconds.
Those that have the iPhone 4S, that device needs a full 30 seconds in the quick-cook machine.
So, if you read such a rumor and somehow thought it was legitimate, consider these pictures and video a public service. For the rest of you, it will be either torture or entertainment. "Malik 11000" promises to microwave a Samsung Galaxy S4 when he gets one.
via:
TheTechJournal.com