Video appears to show Apple iPhone purchases made for black market sales in China
24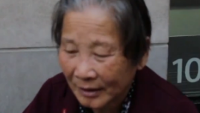 You might remember the name of Casey Neistat. He is the filmmaker whose documentary of the lines for the
Apple iPhone 5s
launch
was taken off YouTube by Apple
. The Cupertino company edited the video, removed Neistat's name from the credits, and showed the revamped video to customer service reps at a motivational rally. Nokia, upon learning about this, presented Neistat with a free
Nokia Lumia 1020
.
Neistat is back in the news after filming the lines that gathered around various Apple Stores in the Big Apple, in preparation for the launch of the
Apple iPhone 6
and
Apple iPhone 6 Plus
. Neistat's new film reveals his theory that the Chinese Mafia is placing elderly Chinese line sitters at the front of the lines to buy iPhones to ship back to China. Unlike last year, China was not included in the initial launch of of the new models on Friday. Apparently, regulators in the country have not yet finished their jobs. Regardless, there is
a big black market developing for the iPhone this year in the country
.
As Neistat's film shows, a large number of older Asians were waiting on the line, some for more than two days. And instead of the excitement that you used to see amongst those waiting for the next iteration of the iPhone, these people act as though it is a job they are doing. Neistart employed a translator who was told by some of the Asians on the line, that they were buying the phone for themselves or loved ones. But they weren't convincing.
Around midnight, New York's Finest told those on line that they had to sit up since sleeping is not allowed on the sidewalk. The cops weren't exactly the friendly sort, with one asking those in line if they had ever heard of soap. "
You f-----g stink
," growled one policeman. And you wonder why New York City cops have a reputation for being unfriendly. But we digress.
Returning to the high probability that many on line outside Apple Stores were purchasing iPhone models to be smuggled into China, Neistat noticed that most of the Asians who purchased a phone after waiting on line, would immediately turn around and hand off the purchase to what could only be described as shady looking characters. These guys peeled off hundred dollar bills from a thick wad of cash, to pay off those who waited on line for them.
We wonder if Apple will once again be hijacking Neistat's work for its own purposes.
source:
CaseyNeistat
via
TheVerge