Nokia gives free phone to filmmaker whose work was stolen by Apple
65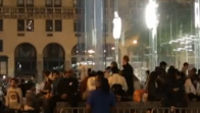 If the name Casey Neistat sounds familiar to you, you have a great memory. Early last year, we told you that
the New York filmmaker had created a video about the dangers of texting while walking
. Last month, Neistat made a film showing what he called "the dark side" of waiting in line outside various New York City Apple Stores on the day that the
Apple iPhone 5s
(and the
Apple iPhone 5c
) launched. While the length of the film really precludes it from being a real in-depth analysis of why people wait in line for days just to be the first on their block with the latest iPhone, it is still an interesting look at those willing to camp out for the device.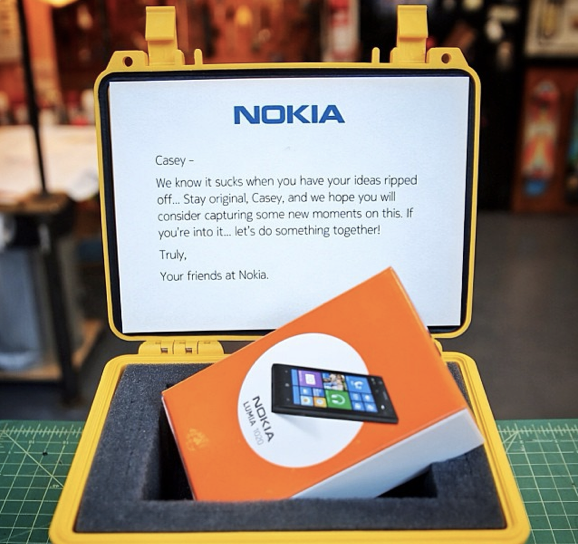 Nokia sends the filmmaker a free Nokia Lumia 1020
The real problem (notwithstanding the mental condition of the person who slept in front of the Apple Store with his head encased in plastic) is that last week word leaked that Apple had stolen the actual movie, edited it to change the sequences, put some new music in the background, and showed the film to customer service reps to thank them for their hard work during the launch. To make matters worse, Neistat's name was removed from the credits. As far as we know, the filmmaker received nothing from this private showing of his film, not even a letter from CEO Tim Cook.
So along comes Nokia, who along with Microsoft are always the fastest to take advantage of publicity faux pas made by rivals, to reward the filmmaker while at the same time, making Apple look bad. The Finnish based OEM (soon to be a Redmond based OEM) sent Casey a box containing a free
Nokia Lumia 1020
. With its 41MP PureView snapper, it is the perfect handset for a filmmaker.
Even better was the note attached to the gift, which we have copied for your enjoyment below. Neistat admits to being an Apple fan but says, "
I've never had my work stolen so adversely as this. They stripped all my branding off it and put their own name on it in such a harsh way
."
"Casey-we know it sucks when you have your ideas ripped off...Stay original, Casey, and we hope you will consider capturing some new moments on this.If you're into it... let's do something together! Truly, Your friends at Nokia"
-Note sent with Nokia Lumia 1020
source:
NewYorkTimes
via
CNET