Viber Beta lands on Windows Phone, BlackBerry, no voice calling yet
7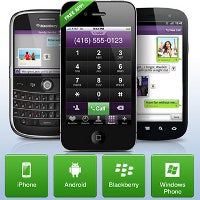 Viber
, the free application that allows you to make HD voice calls for free, has now landed on Windows Phone and the BlackBerry OS. Viber arrives on the two operating systems in an
early beta version
, but that's already a huge leap towards a full-fledged app. Right now, though, you won't be able to place calls, and you're left with text messaging, sharing photos and locations between users.
There's no word yet on the release date of Viber with voice calling for BB and WP, but the promise is there.
Viber made its debut in late 2010 on the iPhone and at the time it was the only the free VoIP application integrated so deeply into the platform that it ran in the background and you could still take calls or receive messages. It then got an Android version, and now Viber can take pride in a massive 69 million users.
The app works both over 3G and Wi-Fi, and the only charge you'll see is to your data bill - otherwise calling and texting is free.