Verizon's Shammo says that offering unlimited 4G LTE data is not a sustainable business plan
24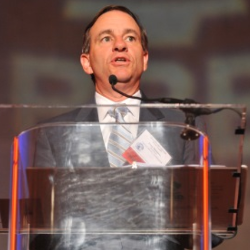 Hey Verizon customers, feeling a little left out? Last week both T-Mobile and Sprint announced unlimited everything packages.
T-Mobile One offers unlimited talk, text and 4G LTE
for $70 a month for the first line, $50 for the next line, and $20 a line for as many as six additional users. There are some caveats as we pointed out last week. Unlimited video comes to you at 480p (DVD quality), although an extra $25 a month will boost the resolution. And the carrier's top 3% data hogs can be throttled if they are in an area with heavy cell traffic at a specific moment.
Sprint's Unlimited Freedom also offers unlimited talk, text and 4G LTE data
, but at a price of $60 a month for the first line and $40 a month for the second line. That will save you $20 a month over T-Mobile One for two lines. Sprint does say that streaming video, music and games are optimized, which is carrier code for throttled. While Sprint wasn't as transparent as T-Mobile was by revealing the resolution of its streaming, we would guess that it will match the 480p DVD quality that T-Mobile subscribers will be viewing.
AT&T has its own unlimited package, which is limited in availability to DirecTV subscribers. Pricing is $100 a month for the first line, and $40 a month for the second. And that leaves Verizon's unlimited plan. Hold on while we search for it. Uh, well folks, we can't seem to find Big Red's unlimited data plan mainly because it doesn't have one. And while that's par for the course with the nation's largest carrier (widely known as the most expensive of the big four), there might be more to Big Red's decision not to offer unlimited service. There is some talk that the carrier does not have enough spectrum to handle the rush of traffic that unlimited data would bring.
Verizon CFO Fran Shammo said a few months ago at an industry conference that unlimited doesn't work with 4G LTE connectivity. That is because carriers need to generate cash to reinvest in their infrastructure. As a result, the executive said that unlimited will eventually fade away. But analyst Walter Piecyk of BTIG Research says that the real problem is that Verizon is running out of spectrum to convert to 4G from 3G. And Verizon has
promised to keep 3G services up through 2020
which limits it even more.

Piecyz says Verizon's recent move to raise rates and data caps could be a sign that it is restrained by a limited amount of spectrum. The carrier is trying cell site densification to add more cell sites, but this is going slower than expected as many cities and town are resisting the attempt to add the additional sites.



"Verizon continues to cite low spectrum usage but evidence in the largest and most population dense markets suggests they are quickly running out of spectrum that they can convert to 4G from 3G, particularly given their commitment to keep a 3G network in service until 2020, and the amount of voice traffic that is still carried over their legacy CDMA networks. It is clear that Verizon is pushing forward on cell site densification to increase capacity, but that appears to be going slower than expected as towns and cities are pushing back on aggressive small cell deployment plans, an issue cited on the conference calls of Sprint, tower companies and CommScope, among other places. It's also questionable whether the limited service area of a small cell can solve Verizon's capacity needs in the near and intermediate term."-Walter Piecyk, anallyst, BTIG Research


Verizon wants you to believe that offering unlimited data is a short term move used by T-Mobile and Sprint in an attempt to shake out the low hanging fruit at Verizon. Others say that a lack of spectrum is preventing Verizon from joining the other carriers. Even though Verizon spent $10.4 billion last year on AWS-3 airwaves bought during an FCC auction, the nation's largest carrier is going to have a tough time convincing everyone that a spectrum shortage isn't the issue here unless it comes up with an unlimited plan of its own.

source: BTIG (RegistrationReqd.), FierceWireless