Verizon's Samsung Gem smiles for the camera once again, Big Red launch imminent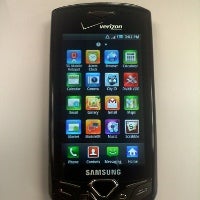 The Verizon-branded Samsung Gem might be the cheapest gem of a phone that's coming up in thenear future, but it grabs another prize as well – for one of thelongest delays. It was first leaked out as early as August of lastyear, only to appear again now in all of its Froyo glory. This time, it'sin a box, which hints at a very near launch – actually somethird-party retailers have reportedly started taking deliveries, butBig Red's official outlets are to release it soon as well. Actually,the phone was already launched on some regional carriers, includingU.S. Cellular recently, which has it for the hard-to-beat $29.99 on contract.
Spec-wise, the Samsung Gem is nofront-runner of technology with rather modest 3.2-inch WQVGAcapacitive touchscreen, 800MHz processor and a 3.2-megapixel camera,but it aims to offer the basic Android experience for a veryaffordable price. Oh, and that diamond-shaped button takes centerstage as the geek-magnet in the Gem. Already feel attracted? We are,to the price - it's not yet announced, but something tells us it willbe low.
source: This is my next podcast