Verizon's Samsung GALAXY Nexus no longer supports Google Wallet
21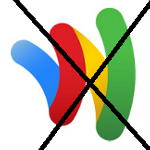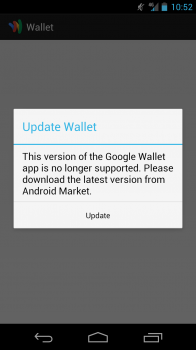 Google Wallet will no longer be supported on Verizon's Samsung GALAXY Nexus
Those rockin' Verizon's version of the
Samsung GALAXY Nexus
and have been using Google Wallet after
sideloading it onto their device
, might have had a surprise when they tried to open up Google Wallet on Friday. A little message said that "
This version of Google Wallet is no longer supported
." That can't be terribly surprising considering that Verizon never officially supported the application (hence the reason for sideloading it on the phone), and the mobile operator is
one of the trio of carriers that is behind competitor ISIS
. Just when
things had finally been looking up for Google Wallet
, with usage doubling in recent weeks, the news leaves Sprint as the only carrier really putting any effort into the application. But that is something that can not be counted on forever since
Sprint has its own mobile payment system
that it is working on.
Just like the dinosaurs in Jurassic Park had to use frog DNA to reproduce, life finds a way. In other words, we wouldn't be surprised to see some type of workaround from the developer community. In the meantime, we guess for those Verizon customers with the Samsung GALAXY Nexus, it's back to using real cash or plastic credit cards to make purchases.
source:
Phandroid