Verizon's LTE might be restricted to Big Red's devices only
5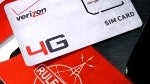 LTE is in its nascence in the US, and Verizon's customers are still wrapping their heads around the fact that they have to use a Subscriber Identification Module (SIM) card in their device to spread that 4G goodness around. There are no actual devices even,
only USB dongles
that allow you to access Verizon's LTE network, but this is certainly going to change
pretty soon
.
So what happens if you have an LTE SIM card from Verizon, and want to use it with an LTE device that supports the same frequencies, but is not in the carrier's portfolio? World's biggest SIM card maker Gemalto answers that they have embedded options to restrict access in their LTE cards, mainly for theft-prevention, and other security purposes.
The LTE card can report back to the carrier what device is currently the card in, unlike GSM SIM cards, where the lock is on the device's side. A bunch of LTE products will be hitting the market next year, so we will know pretty soon if the devices themselves will be locked to the respective carrier, but even if they are not, carriers can still apply their own restrictive policies through the LTE SIM card. Just another day in carrier's paradise, but we might be getting ahead of ourselves here. The fact that these possibilities exist doesn't mean that Verizon will use them, right? Right?
Gemalto also clarified that its LTE cards allow for backward identification of GSM, CDMA, and UMTS subscribers, so you won't need two cards when you switch from GSM to LTE usage. The company is also at the forefront of NFC payment services, and has developed an NFC-enabled SIM card with the necessary security software for mobile payments. It also offers flexible antennas that can be connected to these NFC SIM overlays, and wrapped around the phone's battery, which can turn
most phones into mobile wallets
.
The company's reprogrammable embedded SIM card solution was to be
used by Apple in the next iPhone
, but the European carriers said this move will turn them into zombies, and threatened to
cut subsidies for Apple's products
, if the company moves ahead with these plans.
source:
PCMag