Verizon's 16GB Apple iPhone 6 in Space Gray was Best Buy's top selling phone sold with a plan in Q3
15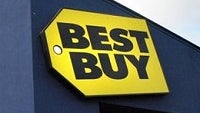 According to the data crunching conducted by Kevin and the guys at JeeQ Data, the Verizon branded 16GB
Apple iPhone 6
in Space Gray, was the phone most purchased with a plan from Best Buy during the third quarter. The 16GB iPhone 6 in Space Gray from Sprint was second, while number three was the 64GB iPhone 6 in Space Gray from Verizon.
That's not to say that Samsung wasn't well represented on the list. The
Samsung Galaxy S6
in various colors, and from different carriers, ranked number 4,6,7,9 and 12. The 32GB
Samsung Galaxy Note5
was number 10,13,14 and 19, while the 64GB Apple iPhone 6 was numbers 3,16 and 20. Interestingly, the previous generation Samsung models were sprinkled throughout the top 20. The
Samsung Galaxy S5
in charcoal, branded with the Sprint name, finished 11th. Also from Sprint, the
Samsung Galaxy Note 4
in Charcoal Black placed 17th.
For the three months ended in September, Apple sold 53% of the handsets offered with a plan at Best Buy, while Samsung had 47% of the business. Apple's sales picked up sequentially in each of the three months, peaking in September. That is the same month when Apple unveiled and launched, its new
Apple iPhone 6s
and
Apple iPhone 6s Plus
. Samsung's sales were completely opposite, peaking in the first month of the quarter, and dropping on a sequential basis.
Of the smartphones purchased with a plan from Best Buy during Q3, Verizon branded handsets accounted for 59% of the total. Sprint had 36% of such sales with AT&T accounted for the remaining 5%. And 32GB was the preferred internal memory size, just beating out 16GB by a 43% to 40% count.
You can check out the graphs related to the data, by clicking on the slideshow below!
Thanks Kevin!