Verizon will begin selling the Palm Pre 2 starting tomorrow
4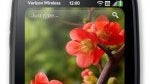 In all honestly, it might be just a little too late for the announcement regarding the Palm Pre 2's arrival on US shores. For a while there, many people were fairly certain that the latest
webOS device would be making its way to Verizon
, but as time continued to go on, it seemed like it was a
bust
.
However, the handset will indeed be making its debut on
Big Red's lineup starting tomorrow
as HP announced the long awaited news today at their webOS event in San Francisco. Meanwhile, it's somewhat surprising since the existence of its successor,
the Palm Pre 3
, was also unveiled at the show. Nonetheless, Verizon customers can fetch themselves the webOS 2.0 powered device starting tomorrow.
Sure you can skip out on the Palm Pre 2 and decide to go after the Pre 3, but you'll have to wait until the summer to get one – with no word yet on carrier availability. Right now though, the Palm Pre 2 is going to be here and will be the latest webOS powered device to hit the US market.
via
SlashGear