Verizon wants to develop standards for 5G, signs deal with KT to speed up commercialization
13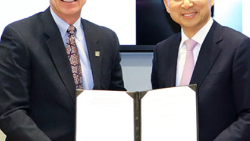 It probably wouldn't be much of a surprise to hear that Verizon wants to play a leading role in developing the global standards for 5G wireless service. The largest carrier in the U.S. has just signed a partnership deal with Korea Telecom for both to determine what technologies would be needed for the pair to come up with standards for 5G wireless service. AT&T, Verizon and Sprint have already started conducting very preliminary tests of 5G. Earlier this month Sprint tested 5G during a soccer tournament in Santa Clara
and was able to achieve download speeds of 2Gbps
.
On Friday, Verizon's Lowell McAdam signed the partnership agreement with KT's chairman, Hwang Chang-gyu. The agreement was announced today. Mr. Hwang says that developing the standards for 5G is not something that can be accomplished by a single company or single country, leading KT to sign the agreement.
While most carriers hope to start rolling out 5G service in earnest by 2020, Korea Telecom has said that it will demonstrate 5G capabilities by 2018 during the PyeongChang Winter Olympics. Under the terms of the deal, both Verizon and KT will work on speeding up commercialization of the next generation of wireless service, trying to help KT meet its goal.
After both sides signed a memorandum of understanding, Verizon whisked the KT executive to its 5G testing ground in New Jersey. Big Red is said to be interested in KT's 5G millimeter wave technology. The Korean carrier will demonstrate this at the 2018 Olympics.
Verizon was the first U.S. carrier to offer 4G LTE service in the U.S.
and hopes for an encore with 5G. Data speeds are as much as 100 times faster than 4G LTE speeds.
source:
KoreaHerald
via
AndroidAuthority
Recommended Stories