Verizon to launch LTE in 38 major metropolises by 2011
18

At the
CTIA
Enterprise & Applications 2010 Conference, Verizon President and COO Lowell McAdam announced that their
LTE services
will enjoy a broader and quicker launch than expected.
Verizon's 4G LTE service will debut in 38 "major metropolitan areas, covering more than 110 million Americans, by the end of the year." The service will also be available in 60 major airports nationwide. They also promised that the service will quickly extend to the rest of their service area. These estimates are up from an
original report
of 25 and then 30 cities at launch.
McAdam stressed that Verizon is "driven by the vision to provide ubiquitous wireless broadband connectivity and mobility to rural and urban Americans alike." He also confirmed that, while initially Verizon's customers will be able to access the network with wireless laptop cards, in January Big Red will unveil six LTE smartphones and tablets. They will appear on the shelves in the first half of 2011. Verizon will also add more features like high-def video downloads, to supplement the wavering voice plans growth.
Verizon's LTE is rumored to be capable of
speeds up to 28 Mbps
, with an average of 6-12 Mbps, which stands in contrast to the reported speeds of 5-12 Mbps on Sprint's WiMAX network.
The announcement reports that the initial launch will include such large markets as New York, Boston, and many others. This will be a much more enticing start to their 4G service than Sprint's, which is only recently
reaching larger key markets
. For a full list of release markets, visit the source link below.
source:
Verizon Wireless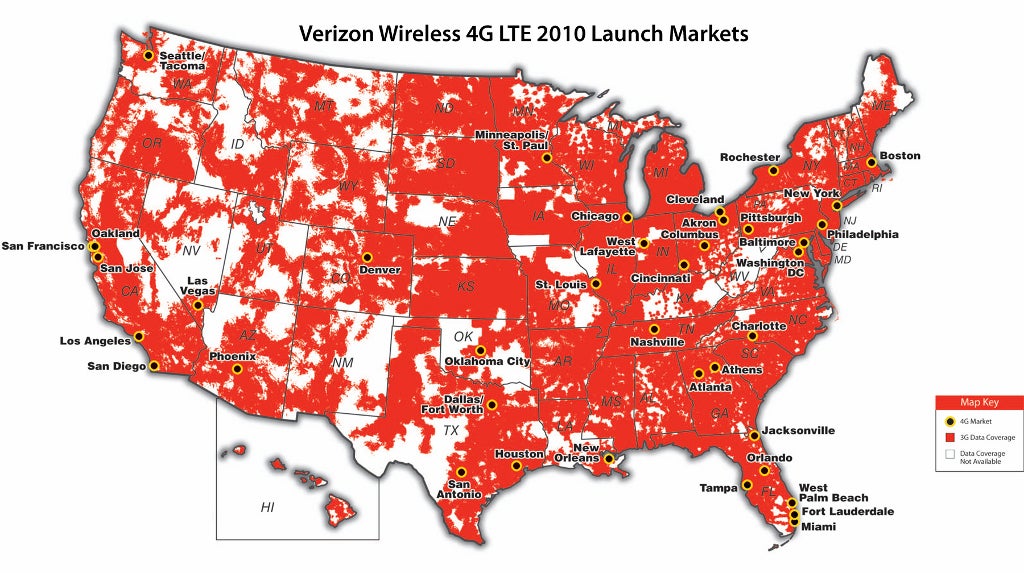 Initial Verizon 4G LTE markets