Verizon 4G in 30 US cities by 2011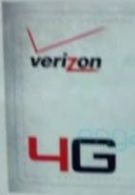 Verizon Wireless told IT managers in Bethesda, Maryland to expect the launch of its 4G network in 30 "National Football League cities" by the end of 2010 (the initial estimate was 25). Verizon senior federal sales executive Bernie McMonagle also said that the rest of the 4G network would be complete by 2013.
Verizon didn't specify which NFL cities would get 4G functionality this year, but because the 32 teams technically operate in 30 US markets, that seems to indicate that all of them will be up and running.
McMonagle said he expects the 4G network to be primarily used on laptop wireless cards at first, but Verizon is expected to roll out 4G devices by Black Friday, perhaps including the HTC Merge.
For those non-football fans out there, here is an alphabetical list of NFL markets: Atlanta, Baltimore, Boston, Buffalo, Charlotte, NC., Chicago, Cincinnati, Cleveland, Dallas, Denver, Detroit, Green Bay, Houston, Indianapolis, Jacksonville, FL., Kansas City, MO., Miami, Minneapolis, Nashville, New Orleans, New York, Oakland, Philadelphia, Phoenix, Pittsburgh, St. Louis, San Diego, San Francisco, Seattle, Tampa, and Washington.
source:
eWeek