Verizon stores prepare for their 7am opening for the iPhone 4
17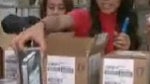 Today is the day. Verizon stores will be opening at an early 7am as customers (new and existing) can come in and walk-out with a new iPhone 4. We've all heard the device
sold-out
last week and had high sales numbers, when current customers were able to pre-order it, so Verizon is expecting a large store turn-out today.
So what are stores doing to prepare themselves, you may ask? Verizon shows us in a behind the scenes video at one of its New York stores, as eager employees open the large brown shipping boxes full of iPhone 4s, placing them on shelves, as well as installing the display units for customers to try out before they buy. And don't forget about all the accessories too!
Are you going to your local Verizon store today yo buy the iPhone 4? Let us know in the comment section below, and be sure to include if there were any long lines like we saw at AT&T and Apple stores the last time around. You can also take a look at our
Verizon iPhone 4 unboxing
, and be sure to check-back for our upcoming review.
source:
Verizon Wireless