Verizon rolls out 'Always-On Data' to prepaid customers
23

Late last week, reports suggested that Verizon's
unlimited throttled data
service was to be extended to prepaid customers. Now official, it allows those who've gorged through their set data allowance some continued, albeit crippled connectivity. Big Red's postpaid packages were recently furnished with a similar feature known as Safety Mode, though the carrier's decision to charge $5 to some subscribers—i.e. those paying less for their monthly services—left a sour taste in a few mouths.
The switch for the Verizon's prepaid contingency was officially turned on yesterday, so if you fall in this category, your device will now stay connected even if you've spent your data quota. Verizon won't charge you five bucks for the feature, which, somewhat quizzically, is known as Always-On Data rather than Safety Mode. Once you're out of data you'll still be able to connect via cellular, though you'll only get 2G speeds at 128 kbps.
Watching YouTube clips without some serious buffering time will be out of the question, and even surfing the web may require some tweaking your browser settings to keep images and other bandwidth hogs to a minimum. With that said, the feature is incredibly useful for instant messaging services like WhatsApp, iMessage and Viber. Even at 2G speed, text-based correspondence should transfer with little fanfare. Images and other fodder may take a little while, but hey, it's better than being cut off entirely.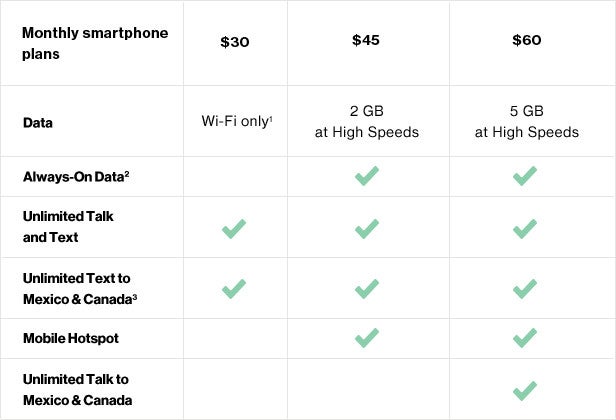 Or is it?
In today's culture of lightning-quick data speeds, the 2G coping mechanism may well have users tearing their hair out. Conveniently, this may heighten the lure of the data add-on, which costs $5 (500 MB, good for 30 days), $10 (1 GB, 90 days) or $20 (3 GB, 90 days). From this side of the coin, Verizon's apparent generosity actually looks a shrewd money-spinner—the frustration of 2G may push a user to pay where previously, they'd resigned themselves to scrambling for Wi-Fi hotspots.
All things considered, does Verizon prepaid appeal to you more now thanks to Always On data? Also, Verizon prepaid customers specifically—are you happy with this update?
Be sure to share your comments with us below.