Verizon rejects BlackBerry Storm OS build 4.7.0.141 after testing it?
30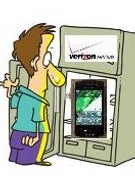 U.S. Storm owners took notice last week when
Vodafone officially released
Storm OS 4.7.0.141 as a firmware upgrade for the 9500 overseas model of RIM's first touchscreen BlackBerry. After all, we had been told directly from an assistant to VZW President and CEO Lowell McAdams that Verizon was on the cusp of releasing an official OS upgrade for the 9530 that was going to fix countless number of problems, speed up the camera and browser, add a virtual QWERTY keyboard for portrait mode and improve upon the cut and paste functionality. So when Vodafone did its thing, it seemed only a matter of days at most before Big Red would also stamp OS .141 with the "OFFICIAL" seal.
According to BGR, you have a better chance of seeing Manny Ramirez do a milk commercial. The web site reports that tests done by Verizon revealed too many flaws for that build to be considered the follow-up to version .75. The debate now is whether or not RIM tries again with another 4.7 version or if the Canadian phone manufacturer goes right to an OS starting with a 5 handle. Another thing to consider is the amount of time it might take for RIM to go straight to the 5.0 builds. With
reports of a Storm 2 circulating
, the carrier wouldn't leave all of those early adapters out in the cold and focus on the sequel, would they? And why is a build good enough for Vodafone users but not for Verizon owners? As soon as we get the answers, we will pass them on right to you.
BlackBerry Storm 9530 Specifications
|
Review
via:
BGR