Vodafone releases official 4.7.0.141 OS upgrade for Storm 9500
4

The last time we saw OS 4.7.0.141 for the BlackBerry Storm 9500, it was an unofficial, leaked OS that could not only void your warranty if you loaded it on your phone, but also brick the device and start the El Nino wind pattern. We have great news for all owners of the Vodafone version of the first touchscreen BlackBerry and not so much for people signed up for other Storm models. Vodafone has taken that oversized rubber stamp, inked it, and stamped the word official on version .141 of the Storm OS which means it can be downloaded by the carrier's customers without fear of retribution.
For the long suffering Storm owners in the U.S. waiting for Verizon to issue another OS upgrade (the last one was version .75 sent back in December), it has been a long wait indeed. We have been told by a person who works for Verizon Wireless President and CEO Lowell McAdam to expect a massive upgrade soon. The importance of this pending upgrade on the device is huge. New features, such as a virtual QWERTY in portrait mode, a green "Go" button on the browser and a newly upgraded cut and paste function are expected in the next version of the OS along with fixes that make the handset seem like a whole new phone, according to those who have downloaded it. Browser, camera and accelerometer speeds are many times faster than what is seen in the current Verizon version of the phone. Despite the lukewarm reviews and the criticism Big Red and RIM took for seemingly releasing the Storm before a final version was ready for the market, the phone is extremely popular and the latest
NPD ratings
have it third in smartphone sales in the U.S. in Q1 this year. If that performance could be achieved with a phone that has been called sluggish and buggy, imagine what might happen if a new OS for the 9530 was to be finally approved by the carrier.
BlackBerry Storm 9500 Specifications
|
Review (9530)
source:
CrackBerry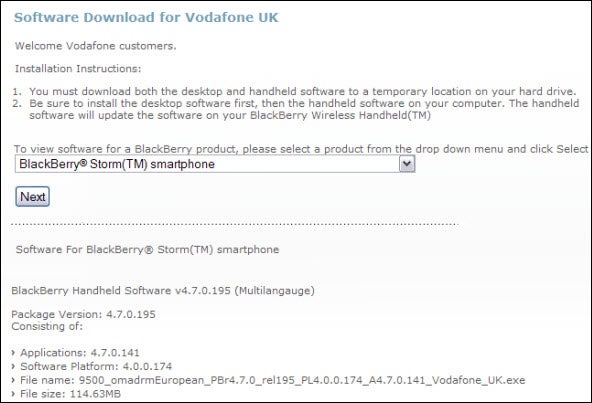 Recommended Stories